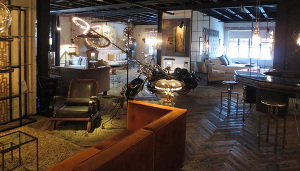 Quick•Step flooring will be featured in a new design lab opening in the Wynwood Arts District of Miami.
Quick•Step flooring has been selected as the flooring of choice for a new design lab opening in the Wynwood Arts District of Miami.
The new Wynwood Design Lab, which is scheduled to open in September, will host interior designers, retailers, hospitality purchasing agents, art collectors, bloggers and media. Quick•Step will be installed throughout the majority of the new facility, serving as the design foundation of the space.
"Quick•Step's inclusion as the flooring of choice in the Wynwood Design Lab's Lifestyle Studio is incredible exposure for the brand," said a Quick•Step representative.
Vogue magazine listed the Wynwood area of Miami as one of the "15 coolest neighborhoods in the world." Nestled within this neighborhood is the Wynwood Arts District. Numerous art complexes, galleries, performing art spaces, restaurants, cafes and other creative businesses are located here.
The New Wynwood Design Lab is co-owned by Christi Tasker, former award-winning interior design professional. She is a key player in some of North America's most important home and shelter professional gatherings, such as the High Point Furniture Market, Las Vegas Market, AmericasMart Atlanta, Maison Objet Paris and Maison Objet Americas among others. 
Wynwood Design Lab will feature brands from American manufacturers, well-known artists, or major European brands that want a strong luxury brand presence in the U.S.
For more information, visit quickstepstyle.com.