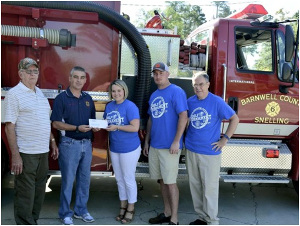 From left: Bobby Moore, Snelling, S.C., fire chief; Timbo Williams, Barnwell County, S.C., fire coordinator, and Kronotex employees Brittany Lott, Bobby Sauls and Jeff Martin.
KronotexUSA has renamed and dedicated its employee golf tournament to honor Dean Scarbeary, a recently deceased employee.
Scarbeary, former receiving lead at KronotexUSA's Barnwell, S.C., laminate flooring plant, worked at the facility for nine years and was one of the organizers of the annual employee golf tournament.
The Dean Scarbeary Memorial Golf Tournament for Charity is scheduled for Saturday, June 27, and has already raised more than $7,500, according to the company.
According to Jeff Martin, human resources manager for KronotexUSA, the money raised will be donated to Barnwell County first responders who tried to save Scarbeary during the house fire that claimed his life.
"Our company has put down deep roots in Barnwell since building our 575,000-square foot facility here beginning in 2005. We see this as just another way to thank those in our community who tried to help one of our own," said Martin.