Last month's NeoCon saw the flooring industry step up with an array of product offerings to fit a variety of commercial settings—from corporate to hospitality to healthcare and more.
The following is a look at just some of what was presented during the three-day show:

Bentley's Math Club Embraces its Geeky Side
Bentley's new carpet tile collection, Math Club, unites its two styles—TechUpd8 and Supercomputer—and 13 colorways to appeal to the design geeks in all of us. Sleek yet quirky, the Math Club collection's two styles make geometry fun again with their complimentary smooth lines and sharp shapes. And when it comes to color, exciting piece dyed flexibility makes sure there's no wrong answer. Add and subtract from Math Club's 13 colorways to create endless combinations that mix warm neutrals with bold splashes of color. Math Club products feature Antron Legacy Type 6,6 Nylon and are available in 18-x36-inch and 24-x24-inch NexStep Cushion Tile or AFIRMA Hardback Tile. Bentley's Fast Track quick-ship program allows for orders of 1,500 square yards or less (standard colors), ready to ship within 10 business days of order.

Chilewich Explores Shapes and Sizes
Chilewich's Contract Collection features three themes—woven plank tiles, white with silver textiles and white with gold textiles. The collection's woven plank plynyltiles take advantage of new manufacturing techniques developed by Chilewich, and allow for new shapes and sizes of flooring products to be made.

Crossville Expands Porcelain Offering with Gotham
---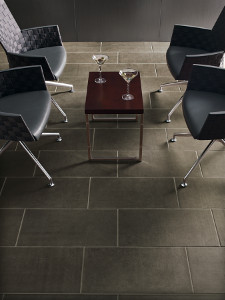 ---
Crossville has introduced the Gotham porcelain tile collection. The latest addition to the company's domestically produced tile lines, Gotham offers a fresh interpretation of the look of stained concrete in a range of gritty yet glamorous colors. Gotham's appearance captures the detailed subtleties of concrete's aggregate surface, nuanced across all six of the collection's foundational colors and enhanced by the unpolished finish. The collection's six color options range from lighter to dark tones: Lamp Post, Penthouse, Clock Tower, Main Line, Dockside and Pavement—each named for iconic elements of urban cityscapes. The two calibrated field tile size options are the generously proportioned 12"x24" and the versatile 2"x6". Additionally, the collection comes with a 4"x24" bullnose trim and a 6"x12" covebase that allow for fully finished installations. Gotham is recommended for interior floors, walls, countertops, and exterior walls in both residential and commercial applications.

Interface Finds Inspiration Near and Far
Inspired by nature, Interface's new Near & Far Collection uses materials, color placement and texture to make a statement. Made with 100% recycled content nylon, Near & Far explores dimension with shading and striations to create a natural combination.

J+J Flooring Group Delivers a Range of Possibility
---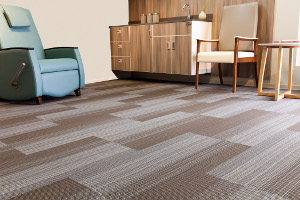 ---
Lines and colorations reminiscent of the darkest, innermost shadow of an eclipse (the umbra) are the design inspiration for the first modular plank products from J+J Flooring Group's Kinetex textile composite flooring. The sophisticated ombre pattern of Umbra and Umbra Stripe lends itself perfectly to the 18-x 36-inch size. Lines of varying breadth and width, sometimes in darkness, sometimes with bright streaks, are seen fainter and correspond to intensified lines. This effect, when set upon a modular plank, creates a myriad of design installation possibilities ranging from sublime and refined to tailored and bold. The Umbra pattern blends colors to create a sleek and alluring complexity that provides the perfect multicolored flooring solution. Umbra Stripe offers a variation of Umbra that features a bright contrasting linear element and a selection of colorways that complement four of the seven Umbra colors. Varying dusky shades of neutrals and deep hues comprise the Umbra colorline, while Umbra Stripe offers linear pops of amber, crimson and blue to create the perfect counterparts to the shaded tones in Umbra.
Jjflooringgroup.com or Jj-kinetex.com

Karndean Designflooring Introduces Art Select Stone Collection
Art Select Stones, the latest collection of premium tiles from Karndean Designflooring, features stunning designs inspired by travertine, marble, slate and limestone. These 16 new stones are featured in a variety of sizes and formats, including Karndean's revolutionary new FreeLengths. Available in travertine-effect tiles, FreeLengths replicate popular stone plank visuals through 6-inch wide tiles in varying lengths, provide a random plank appeal and a wide variety of design options. In addition, the Art Select Stone collection features large format tiles in 16-x16-inch and 18-x24-inch sizes, as well as random Versailles patterns. This line of luxury vinyl tiles boasts Karndean's most intricate and realistic designs to date—something to match all décor schemes.
Furthermore, Art Select Stones have a heavy duty 30 mil wear layer, making them ideal for commercial and residential spaces alike.
Karndean.com or Karndean.com/artselect

Shimoda Design Group and Mannington Commercial Create Traction Avenue Collection
Mannington Commercial , in partnership with Joey Shimoda, FAIA, FIIDA, and the Shimoda Design Group, launched the Traction Avenue Collection. This collection is 12-x48-inch carpet plank in a color palette, especially well-suited for corporate, retail, higher education and hospitality spaces. The Traction Avenue Collection was inspired by streetscapes of industry and art, grit and glory—the beauty of the Arts District on the eastern side of downtown Los Angeles. Mannington's design team interpreted Shimoda's concepts into sophisticated modern textiles that use intersections of texture and pattern play, to bring elegance and visual interest without any compromise of performance. The color palette is a highly inventive system of 18 colors that enable designers, in the same space, to move seamlessly from neutral gradations to colors paired with neutrals, to full chroma saturated colors.
Manningtoncommercial.com or Mannington.com/commercial

Metroflor Introduces New Abstract Collection, Joining ASPECTA LVT
ASPECTA by Metroflor introduces a collection of 24 abstract LVT tile designs: an exciting new range that embraces a creative portfolio of colors, textures and shapes that are vibrant and stimulating. Joining the range of 52 wood and 33 stone designs, ASPECTA's new abstracts are ideal for a whole host of contract environments including corporate, healthcare, education, leisure, hospitality and retail. The full range includes: Tarnish in six colorways, Hexi in three colorways, Careen in four colorways, Fracas in five colorways, and Piermont in six colorways. With sizes ranging from 7.25- x 48-inch to 24- x 24-inch, all Abstracts have a 3.2mm thickness and a 28 Mil wear layer and are further enhanced by a ceramic bead finish and a three-stage embossing process to achieve the most authentic textures on the market.

Milliken Explores the Curiosity of Color
Milliken explores the curiosity of color with two new collections – Naturally Drawn and Color Field. Naturally Drawn utilizes colors and shapes of our outdoor landscape and offers inspiration for a modern interpretation of carpet through classic forms. Exquisite and delicate mediums of watercolor, ink and pencil sketch reimagine the beauty of the natural environment. Color Field, inspired by the large swaths of color represented in the abstract expressionism style of 'color field' painting, explores the details created when the distinction between subject and background are eliminated. With the ability to discern layers as if they were aged by nature, the collection offers 64 colors to create a quiet floor plane or allow punctuations of color with vibrant hues. 

Mohawk Group Reveals Moving Floors
Moving Floors – designed by Mohawk Group in collaboration with 13&9 Design of Innocad – is an innovation in flooring. The carpet tile collection's varying patterns are designed to be dynamically moving based on the user's changing point of view, thus serving as a design tool that creates a personalized solution for individual moods and needs. Made with a new tufting technology that allows for accurate color placement and a more luxurious construction, Moving Floors celebrates texture and explores the fourth dimension. The 24-inch x 24-inch tiles are made with Duracolor premium nylon fiber on Mohawk's Red List free EcoFlex NXT backing. The collection will feature a mix of geometric patterns along with coordinating solid textures in a sensibly sophisticated color palette.

Patcraft Launches Two Collections at NeoCon 2015
Patcraft, part of Shaw industries, debuted two carpet tile collections: Deconstructed Black and Deconstructed Metal. Inspired by a study of transparency, patterns emerge through exposed primary backing, which creates a sophisticated visual while providing a high performance product suitable for a wide range of applications. Deconstructed Black collection includes three 24x24-inch carpet tiles available in 12 colors: Dismantle, Disrupt and Displace. Patterns emerge from an exposed black primary backing and a variation in fiber pile heights. Deconstructed Metal collection includes three 18x36-inch carpet tiles: Metallic Alchemy, Alloy Shimmer and Anodized Metal. The colorway is comprised of six different yarn combinations that mix with three metallic backings for a total of 18 colors. Exposing the metallic primary backing beneath the carpet fiber creates subtle light reflectance in a space.
Patcraft.com or Shawfloors.com

Shaw Contract Group Alters Perspectives
Shaw Contract Group has taken a new approach to design, changing the space and redefining any room for an entirely different point of view. An ideal selection for creating spaces with varying degrees of movement or pattern, the collection palette features 12 colors and four styles to provide directional vibrancy in two formats: 9x36 and 18x36. The company conducted an exploratory workshop, immersing itself in the concept of analog vs. digital to identify how we process imagery and detect the real from the altered. The four styles, analog, distort, glitch and manipulate, comprise various colors and patterns that can be used alone or blended to build scale or enhance the space.

Tandus Centiva Introduces Cartography
Tandus Centiva Introduces Cartography, designed to "personalize" the workplace with bright color accents for floor plan mapping and workplace seating. Cartography provides a fresh take on organics for interiors with a textural surface of cut and un-cut pile. Matte and lustrous fiber add depth while warm and cool neutrals ground this product. Cartography is available in 24x24-inch modular tiles which emphasize the textural surface of the product or as a 6 ft. wide Powerbond roll good, constructed to create a larger-scale appearance. Cartography is available with a variety of backing and cushion options.

Tarkett Introduces Johnsonite Safe-T-First System
Tarkett's new Safe-T-First System (STF) utilizes photoluminescent technology, providing an escape routing system through emergency egress stairwells and hallways that may go dark in the event of a fire or other unexpected power outage, according to the company. STF integrates the photoluminescent technology into color- and design-coordinated resilient flooring products, allowing the space to look well-designed, in addition to providing safe passage. STF utilizes 36 attractive colors and varying design elements, providing a beautiful interior space when the lights are on. When it is dark, the stored energy is released in the form of a yellow-green light.