Retailers and contractors asked to reflect on 2016 and assess the business conditions in the flooring industry agree there is a lot to look forward to for the coming year. Positive sales forecasts and growth of hard surfaces and online sales are all beacons of hope in a challenging marketplace.
The Floor Trends survey, conducted September 21-October 5, 2017, asked flooring dealers, contractors and installers to share insights on flooring sales of different product categories and their perception of various aspects associated with flooring products.
Compared to two years ago, two-thirds of respondents indicated their flooring sales increased in 2016 and they anticipate the sales will continue to grow this year. They noted that the fastest growing area of their business last year was the residential replacement sector (57%) followed by residential/new construction (16%) commercial replacement (14%) and new commercial construction (13%).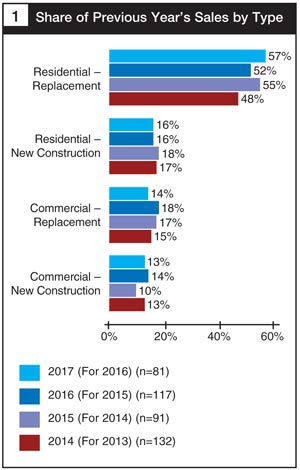 Retailer and contractor responses show business will be up with 20% of respondents saying their business will increase significantly and 46% saying business will grow slightly in 2017. Just 10% of respondents were bracing for a dip in sales this year. Also, those who forecast the worst—business results projected to be "significantly decreasing"—accounted for less than 1% of respondents.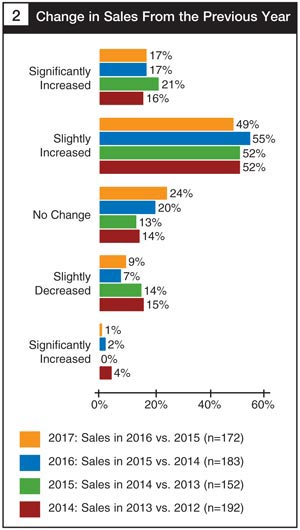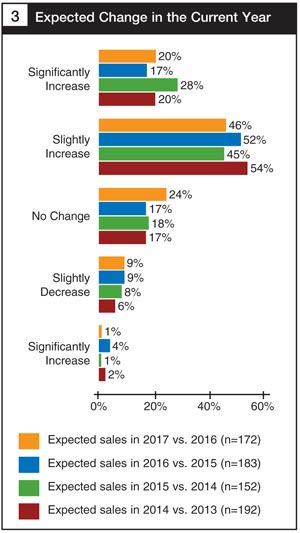 Respondents indicated that they sold or installed an average of three to four products, with tile/stone and hardwood being the top two most sold or installed flooring types, followed by two-thirds or more selling resilient/vinyl/LVT or carpet. Area rugs are the least sold product category.
Fewer respondents this year indicated having a showroom or floor space to display flooring products to their customers. On average, a third of the total 2016 flooring sales came from tile/stone, followed by a carpet, which constituted 26% of the overall flooring sales.
Expectations for the performance of individual product areas in the coming year were mostly reflective of their 2016 track records.
Nearly two-thirds of respondents reported selling less than $500,000 worth of carpet last year. About half of respondents indicate growth in sales last year, compared to two years ago and expect their carpet sales to grow further this year. Super soft carpet's market share continues to grow, increasing in 2016 year by 7%. On average, two out of five carpets sold are super soft. Nylon, followed by polyester continue to remain the top two most sold types of carpets. The majority of respondents sell carpet tile products.
About 47% those polled said hardwood will post increases this year. Hickory was the top selling hardwood last year and is expected to continue through 2017. On average, about two-thirds of respondents' hardwood sales consist of mill/national brands while rustic/distressed styles obtain higher share of hardwood sales.
More than three-quarters of respondents sold up to $250,000 worth of laminate last year, but over half (58%) of respondents expect a decrease in laminate sales this year. Laminate receives low perception ratings overall and is rated the lowest on consumer popularity and eco-friendliness.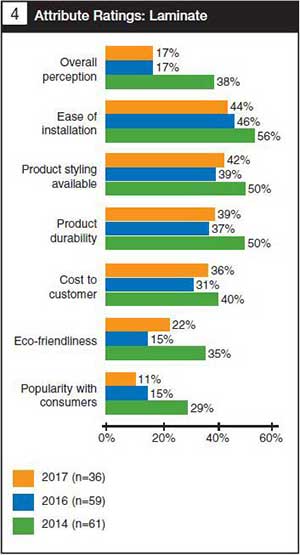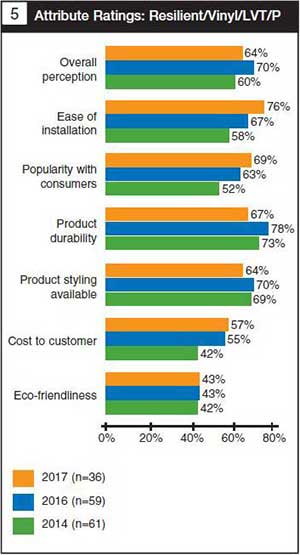 In contrast, Resilient/Vinyl/LVT/P is rated highly overall, earning positive ratings for ease of installation, consumer popularity, product durability and product styling. Less than half of respondents rate it highly on eco-friendliness. Nearly all respondents' companies sell luxury vinyl tile/plank, followed by over three-quarters selling wood plastic/polymer composite. Felt and linoleum are the least sold types of flooring.
Tile is remaining steady. While over half of respondents' tile/stone sales were valued at less than $250,000, a quarter of respondents indicated selling $1 million or more worth of tile/stone last year. Though 40% of respondents do not expect sales to increase next year, about an equal proportion of respondents expect growth compared to 2016. Porcelain remains a top seller with mill/national brands selling more than private label. While about a third of respondents' sales are domestic, 29% of tile/stone sold is of Italian origin.
While retailers associated benefits and drawbacks for each type of flooring, resilient/vinyl is rated highly on most aspects, while hardwood, resilient/vinyl and tile/stone are rated highly overall.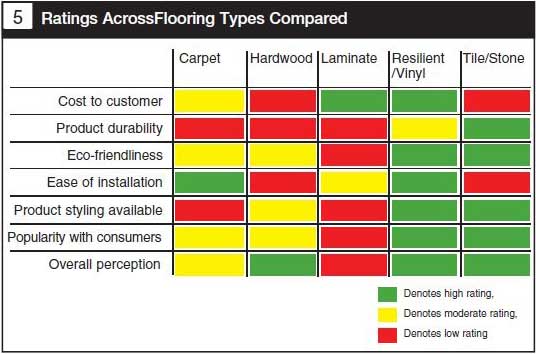 There was wide agreement on the industry's biggest challenge: Installation. The persistent shortage of qualified installers, coupled with a lack of consumer awareness about the importance of certified, well-trained installers, remains a major concern for retailers. While "installation" was overwhelmingly the most frequent response to a question asking for "what were your key market challenges for 2017," it was not the only concern. Other factors frequently mentioned were "online sales," "competition from big box stores," and "finding and satisfying customers" and "competition." There is a high impact of big box stores on respondents' flooring business, more strongly felt this year. About a third of respondents' businesses are highly affected by online sales, though half do not feel the impact.
This is just a snapshot of the 2017 Flooring Industry Study. Please visit www.clearmarkettrends.com to purchase and download the entire report as well as access a wide inventory of other studies done in this industry. You can also email us at info@clearmarkettrends.com if you have any questions.