It was a typical day for Resource Floors, a San Diego-based commercial flooring contractor. The team won an installation in a four-story building where moisture test results came back high—and the flooring product manufacturer would not allow installation without moisture mitigation.
"No one could understand why the upper floors of a 20-year-old building would still have high moisture levels," said Brittany Purdy, principal, Resource Floors. "No root cause was found, and a moisture mitigation system was put down before flooring was installed."
Ask any stakeholder in the flooring space—be it a flooring installer, general contractor, architect, or product manufacturer—what the biggest problem facing the flooring industry is, and the answer is usually concrete moisture. The reasons for excessive moisture in concrete are as various as they are pervasive, and for more than 20 years, the problem has increased. In fact, industry leaders estimate floor failures cost the industry more than $1 billion annually—not to mention cost of downtime while the floor is re-installed. Efficiencies, profitability and relationships are all impacted when high moisture levels become a concern in flooring installations.
An informal poll of Floor Trends' readers showed that 89 percent of flooring professionals have seen more flooring failures due to moisture over the last five years. To get to the heart of the matter, we reached out to Independent Floor Testing & Inspection (IFTI), a nationwide, independent concrete moisture testing company that has been serving the commercial industry for more than 20 years.
"There is no reason to have moisture-related floor failures, as long as you are getting qualified, independent moisture testing," said James Duffy, director of sales and marketing at IFTI. "The overarching reason for floor failures is that every stakeholder that is part of the flooring and installation purchase is not educating the purchaser of the risk the concrete slab holds when applying the floor finish, because almost all of the time, an independent concrete moisture testing agency is not included in the cost, timeline or decision-making process."
It is hard to quantify, but some professionals think moisture issues are increasing because of the plethora of high-moisture solutions that are hitting the market, according to Geoff Gordon, executive director, Fuse Alliance, a member-owned organization of professional, commercial flooring contractors. "Many of these solutions include the installation of an impermeable flooring product over a slab with a high-moisture adhesive," Gordon said. "If it is an older slab with no vapor retarder underneath, the job could potentially fail. Simply put, the contractor is encapsulating a slab and the moisture has nowhere to go except to build up underneath the flooring. This could cause the flooring to release or create mold and mildew problems."
While failures continue in existing construction, Eric Boender, director, floor care and national accounts, Starnet, contends that floor failures due to moisture seem to be decreasing on new construction jobs thanks to increased awareness.
"The main change has been architects and general contractors writing moisture testing into specifications along with asking for allowances on the front end of the bid process in order to avoid surprising and necessary change orders," he said. "It starts with the specifier understanding the products being specified and potential moisture limitations of those products. Many of the manufactures have done an excellent job bringing awareness and also bringing advancements with handling moisture."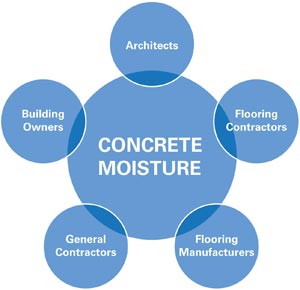 So, who's responsible for moisture issues in commercial spaces? Fingers could point in every direction: the building owner, project specifier, general contractor, flooring contractor, the flooring manufacturer, the building owner, or the testing agency. Answers vary, depending on who you ask.
"It is the building owner's responsibility in existing and new buildings," Purdy said.
In new construction, it's also the general contractor's responsibility to educate the owner on concrete cure times and build a budget to include moisture mitigation if the concrete won't have enough time to cure. For existing buildings, it is ideal to have moisture testing done before design work begins.
"If we're doing a remodel, we don't get too concerned about moisture testing unless we see evidence of moisture problems, but every new slab where we put down carpet or tile, we do a moisture test," said Brian Mundy, director of construction, Shoe Carnival, a footwear retailer with 419 stores. "We pretty much moisture test every new slab we put flooring on. We see a lot of concrete that has high relative humidity, and that doesn't go well with the adhesives today."
Mundy said Shoe Carnival opted to work with IFTI to perform independent moisture testing because the retailer wanted to separate the testing from the installation of the flooring products. In fact, a moisture test is written into the specification for every store Shoe Carnival builds.
"A moisture barrier, if it's required, is a very expensive item, and we wanted to be sure we were getting an honest opinion," Mundy said.
He recalls occasions where moisture testing made a difference in the success of store buildout:
"We've had instances where we thought moisture wouldn't be a problem, but after doing a test, we found it was in fact an issue. We also had one example where the general contractor was working for a landlord, who used their own testing company, and came back with a 'no problem' result but come to find out it wasn't okay, and we had to have the moisture barrier put in."
Purdy also uses independent testing on projects to help protect her business. Once testing is performed, the contractor, building owner and project specifier can select finishes based on the moisture conditions in the building.
"We work with designers specifying materials that are more moisture-tolerant, and this avoids materials being switched at the last moment and in some cases negates the need for full moisture remediation," she said. "The largest roadblock to helping the owner, contractor, and designer is misinformation coming from the mills regarding moisture solutions and warranties."
Independent testing is advocated among flooring pros when it's done properly by a third party.
"The nice thing about a third-party test is that it is supposed to be an unbiased report and also takes responsibility away from the installer or retailer," said Jon Namba, president of Namba Services, a flooring installation firm in Salt Lake City, Utah. "There's nothing wrong with an installer conducting his or her own testing as long as they follow the ASTM protocols for testing."
IFTI mandates all of its technicians take and pass ICRI tier 2 certification along with an internal IFTI certification.
"Since there is no mandate or enforcement of who can provide concrete moisture testing, having obtained an ICRI certification at minimum shows you have obtained a basic understanding of concrete moisture and how to test," Duffy said. When looking to get concrete moisture testing, Duffy said you are looking for three things: the level of education (how to test); experience (to understand how to conduct tests in each real-world situation); and information you can depend on (having error and omission insurance safeguarding the data you have delivered to client).
"The ICRI program is great, but where it starts to get sideways is when these independent testers start to advise and consult if there is a moisture concern," Namba said. "The ICRI certification is for testing and not problem solving."
Namba was involved with a large grocery chain that had an independent certified tester that recommended a certain product outside the flooring manufacturer's recommendation. The moisture mitigation system failed in 12 stores, costing the owner thousands of dollars.
"Where is the responsibility to the individual that recommended the product?" Namba asked. "That's a battle that the owners, installation crew, and manufacturer of the flooring will have to fight, and that's where an independent tester should only test and not recommend as they are no longer a third party."
More on Moisture Mitigation
"There are a host of near-possible solutions out and we need to collectively work together to eliminate this cancer from our industry," Duffy said. "The bottom line is the flooring industry as a whole needs to recognize the value and need for certified, independent concrete moisture testing to be included with every floor install, and each stakeholder has to do what they can to continue to educate and inform each stakeholder of its necessity. To start, carving out moisture testing as a separate line item in the budget and requiring it be done by an independent agency is the best insurance policy you can have to prevent moisture-related floor failures."
For more information, visit www.ifti.com.