As consumers turn to quick sources of design inspiration online, stars have emerged among the designers who populate social media. These creative influencers have a range of design styles and speak to a variety of budgets and projects.
The power of these influencers cannot be underestimated for flooring. They offer consumers inspiration, helpful tips on product selection, and can help to simplify daunting surface selections for home renovation or new builds. These influencers also inspire their followers to take more design risks. Here are a few of our recent favorite projects.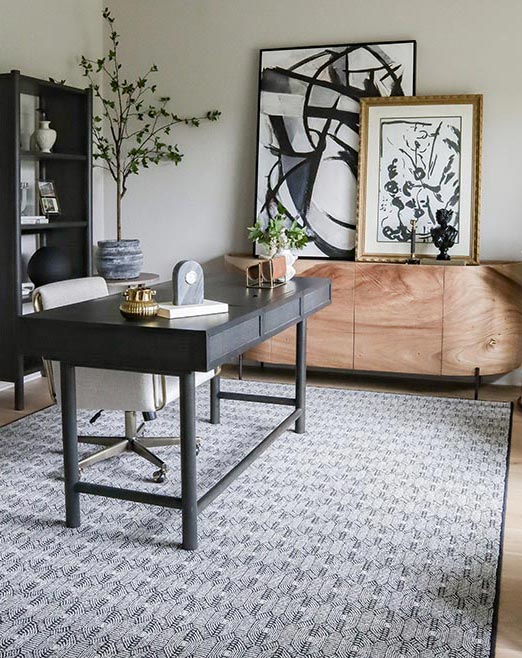 A Modern Office Makeover
Krystal Smit
@thesmittencollective
thesmittencollective.com
For her husband's home office makeover, Krystal Smit of The Smitten Collective said she skipped the traditional masculine design elements: dark colors and lots of leather.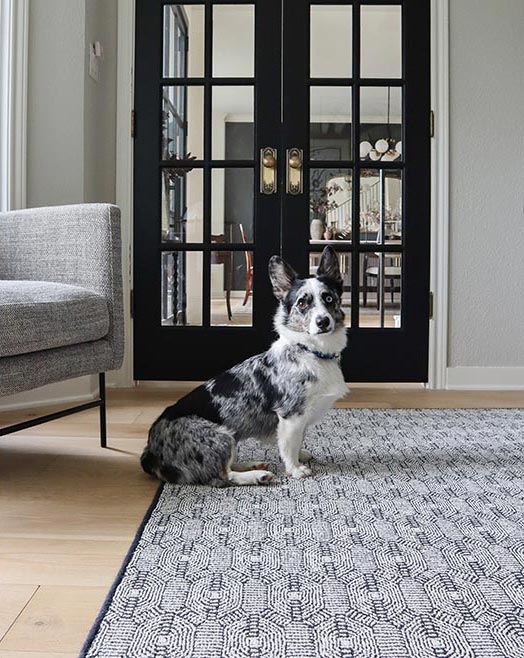 "My husband very much trusts my eye and design, and lets me call most of the shots," Smit said. "He only had a few requests for this project which were opposite of my style. I would've gone dark and moony and traditional, but he wanted to keep things light and bright and much modern. I was trying to create this modern, masculine office space that still had a lot of character." The office was awkwardly shaped, so being able to do a custom rug allowed Smit to order a rug that would fit the space perfectly and tie everything together. She chose a custom Whitemere rug by Karastan in the color Midnight Dream.
"This type of rug is really the perfect type of rug for an office space," Smit said. "He's rolling over it with the chair all day. We have our dog coming in and out. Just knowing that this carpet is made specifically to withstand traffic was very important."
When selecting a rug for a space, Smit said she always goes to pattern first. "Pattern can really dictate a style of a room. Something more vintage or Persian style is going to lean one direction while something more geometric or with smaller patterns is going to lean another."
She said the geometric pattern woven through the Whitemere rug leans a little bit more modern but isn't too bold. "It's kind of a melting pot of style, with abstract art and neoclassical and antique touches, yet an overall modern edge. We both love how it turned out!"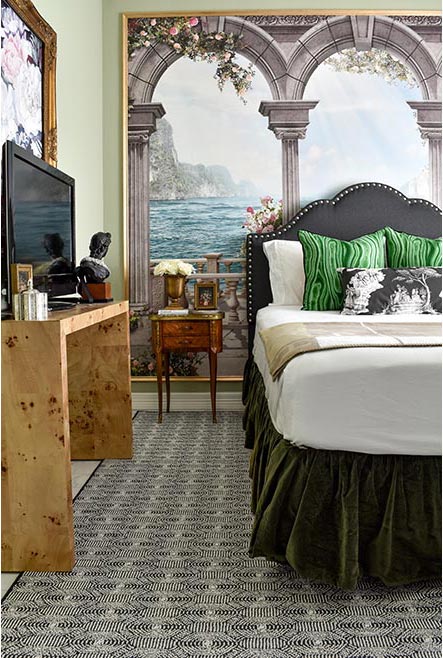 A Personality-Filled Guest Room 
Monica Benavidez
@monicabenavidez
monicawantsit.com
When Monica Benavidez in Corpus Christi, Texas, started to think about a guest room makeover, her first thought was about the rug. "Given most of our guests bring their pets, I knew I wanted a rug that was easy to clean, comfy underfoot and effortlessly stylish," she said.
Benavidez is a fan of traditional American design, but with a French twist.
"I'm obsessed with all things Parisian, but I have a husband and an elderly dog, so I like it be like livable, everyday luxury."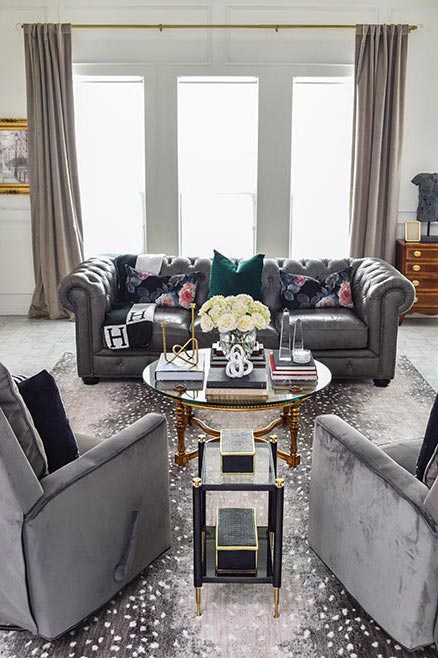 For the guestroom, she selected Whitemere in Midnight Dream by Karastan and had it custom bound into an 8x10-foot rug. "Karastan Kashmere has excellent durability and comes in many classic designs perfect for any room of your home," Benavidez said. "The subtle black and white meets modern art deco vibe of this rug is the perfect backdrop to this sage green guest room, and I'm so thrilled that it is ready for holiday guests!"
After blogging and providing inspiration for 13 years, Benavidez said many of her followers struggle with choosing a rug that is the right scale. "If you have an open-concept space, the larger the better. I also would suggest people to pick colors and patterns that they know will work for years to come. It's tempting to jump on whatever is hot on Pinterest or Instagram, but that's where you have to think about your aesthetic, whether it be seasonally or with cool colors or warm colors—think about the whole picture."
Repeating pattern in different rooms is a great way to create a cohesive vibe, she adds. To create a simple and elegant vibe for her living room, for example, she chose a Karastan antelope rug for her living room that echoes the pattern she used on the rug in her home office.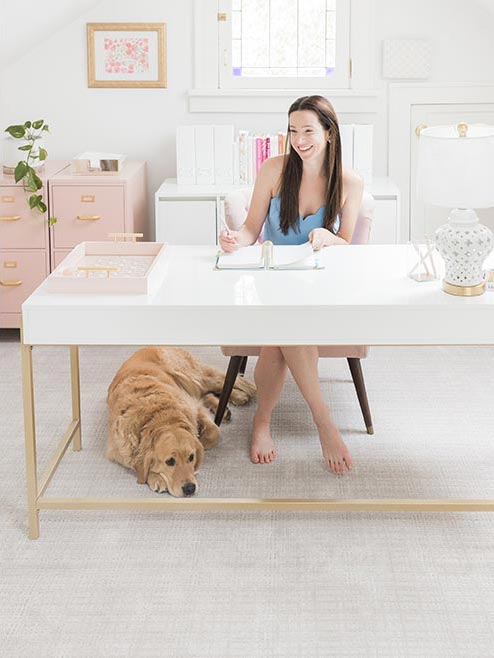 The Cozy Attic Office 
Stephanie Ziajka
@stephanieziajka
thediaryofadebutante.com/
Stephanie Ziajka in Columbia, Missouri, had a unique challenge when converting her attic into an office space. 
"The attic had lower ceilings and a really dark hardwood floor," she said. "It felt cold and barren up here." 
Scouring Pinterest for inspiration, she collected images that featured warm white walls that would inspire a brighter, airy feeling for her workspace. "I was really trying to make it warm and inviting, she said. "The images I collected all had carpeted floors just because it adds that element of warmth and texture to the space."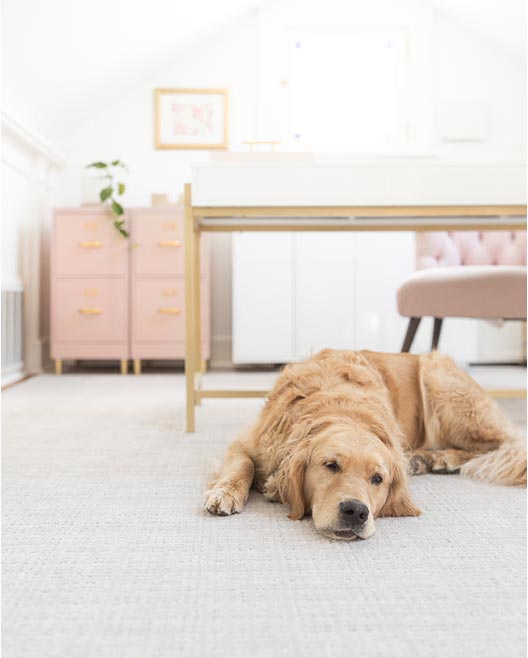 Her solution was Mohawk's SmartStrand Chic Influence carpet in the color harmony installed wall-to-wall. The gray and white color palette worked beautifully with her coastal, rustic vibe.
"Flooring can be an investment, so it's a big deal to choose something that's going to be installed and hopefully last a while," she said.
Her two Golden Retrievers, Nola and Nellie, also influenced her decision. "The fact that it's easy to clean is just a game changer—we've already had a few muddy incidents," she said. "I have two full-grown puppies who love to play outside, so I wanted something neutral and light that would also hide dirt."
She said the soft surface provided her a quieter backdrop for her office work since it's much quieter than hardwood, and the SmartStrand warranty also gave her an added layer of security.
"If your ultimate goal is to create a warm and cozy vibe, carpet is just the best way to go—it's hard to match."