Advancements in surface materials continue to elevate design in outdoor spaces, and tile is leading the way. 
"My history with the design in in relation to outdoor and selecting materials has always been to try to think outside the box," said Randy Angel owner of Randy Angel Designs, an architectural and landscape design firm in Dallas, Texas. "Throughout the years, I've enjoyed seeing the difference in the materials that are being produced specifically towards outdoor design—especially with the large-format porcelain—that allow us to do things that we never could do before." 
Trends in ceramics a lot over the past couple of years, with versatility playing a major role. 
"Material agnosticism—I've used it in context of contingency agnosticism, choosing products that don't care how hybridized our lifestyle is, how varied the use cases that we're going to apply to a space are," said Ryan Fasan, consultant, Tile of Spain. "That we can choose to specify one material and have it be authentic and realistic, visually tactile, and everything with only one performance characteristic is an incredibly powerful for today's consumer." 
Porcelain tile creates seamless indoor-outdoor spaces, and today's thicker porcelain pavers transition into the landscape. These structural paving slabs can stand up to extreme residential and commercial environments, tolerating subzero temperatures and tropical climates without cracking or weakening. The porcelain manufacturing process creates a product that is virtually nonporous and incredibly dense. They are strong enough to survive under the weight of a commercial fleet and practically maintenance free, without the use of sealants.
"Ceramics are one of the most powerful skeleton keys that you can have in your arsenal for creating a modern design language," Fasan added. 
Because of their density and size, porcelain pavers can be dry installed. This means that when the substrate allows, installers can forego the adhesives or mortar cement bases. It can be dry installed on grass, gravel, and a variety of other surfaces. These installation methods offer the additional advantage of removing and reusing the pavers. Of course, these pavers can be installed with traditional setting materials if the substrate requires it. 
"Two-centimeter porcelain pavers are the perfect solution to create and/or update outdoor living spaces," said Micah Hand, director of marketing and product management, Florida Tile. "They are built to withstand the elements and can easily be installed on a variety of substrates." 
At Coverings 2023, Florida Tile expanded its paver line which transitions the floor from indoors to out into a 24 x 36 format. "The beauty of this product is that you can put any graphic on it and take it outdoors," Hand noted. 
MSI's introduced new Arterra porcelain pavers, which mimic the look of natural stone. High-definition glazed ink jet pavers offer all of the features of natural stone pavers, with the added benefits of porcelain. With all of the same characteristics and installation techniques of natural stone, they can set on grass, sand set or installed with mortar over a concrete bed. 
Pool projects have also gained steam: Last year was a banner year for pools with more than 100,000 people in the United States breaking ground on pools, according to Vince Moiso, president of Oceanside Glasstile. 
"Let's face it: if you're in the tile industry, you're in the lifestyle business," Moiso said. "That's the reality of the work that we do—we sell a lifestyle." 
According to P.K. Data research, over 40% of inground swimming pools are located in two states, California and Florida. Other areas of the country with a high concentration of inground swimming pool ownership include the states of Arizona, Nevada, and Texas. 
"When I get a phone call and somebody tells me what that pool did for their family, and how that brought them together that summer, and how incredible of a time that they had with their family being together—that's pretty incredible," Moiso said. "We sold them a lifestyle and they love it and that happiness tells you everything." 
Of course, not all materials are created equal. For the outdoor surfaces, it's critical to know it can withstand temperature fluctuations, chemicals, and be stain, fade, slip resistant. 
In pool and outdoor water features, Moiso said to consider that glass tile may experience a radical ambient temperature fluctuations—perhaps as much as a 40-degree change—as the sun comes up and disappears throughout the day. 
"The glass needs to be able to withstand that and how is that done it's the annealing process it's the cooling process in manufacturing a piece of glass that gets you to that result and if it's cooled over time the stress of the glass is removed and therefore can go outside and withstand those radical temperature changes."
What's Trending Outdoors
✕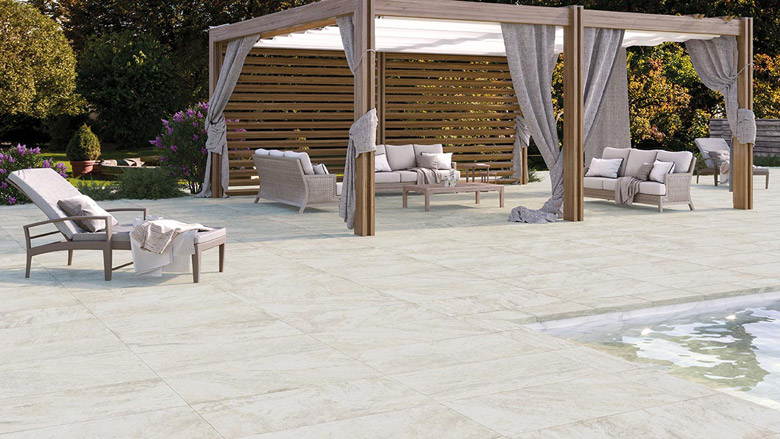 Arterra porcelain pavers bring the look of natural stone into the exterior paver market. The high-definition glazed ink jet offer the same characteristics and installation techniques of natural stone. Photo: MSI
✕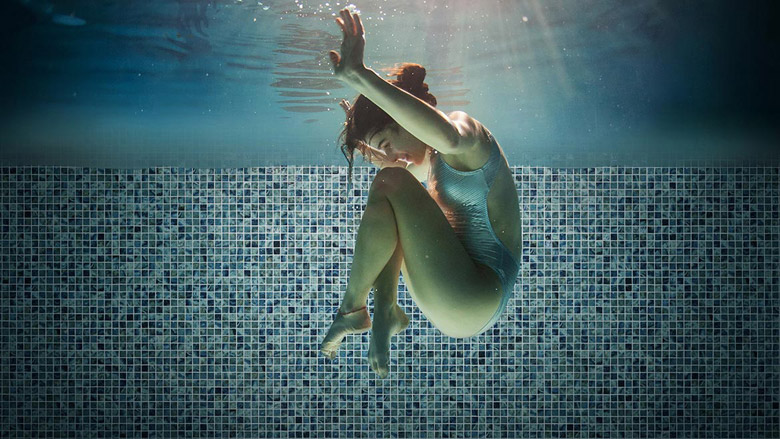 Waterlace glass mesh mosaic tile collection works in indoor and outdoor walls and pool applications. Photo: Emser.
✕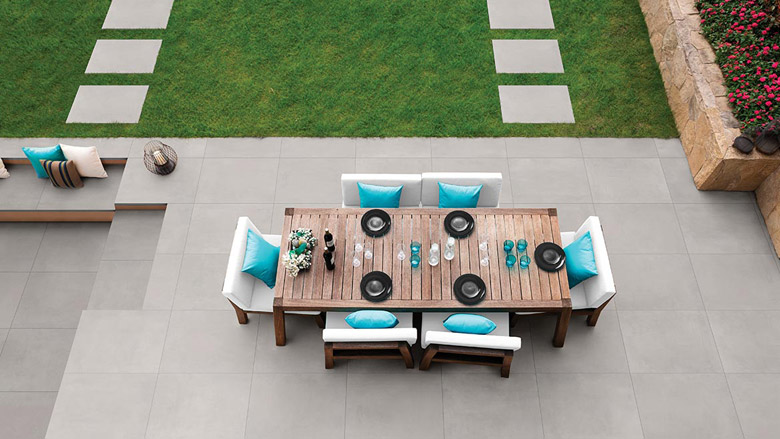 NY2LA 2 cm porcelain pavers feature the characteristics of cement and plaster fused into a porcelain that works perfectly in both residential and commercial outdoor settings. Photo: Florida Tile.
✕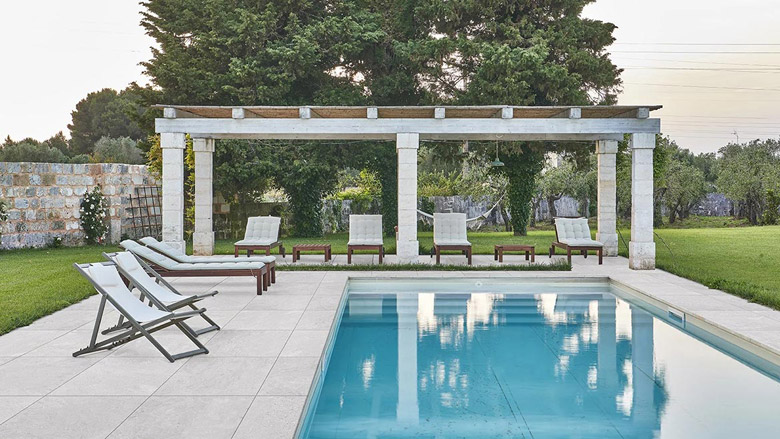 Chamonix2 pavers are ideal for the garden: walkways, poolside and outdoor showers. Photo: Del Conca.
✕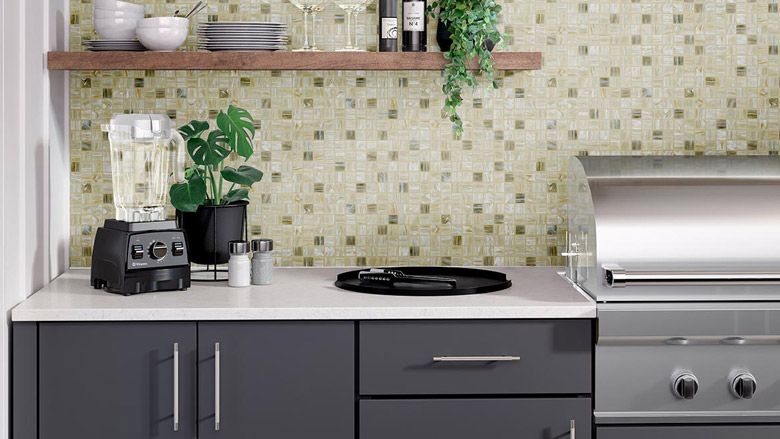 Swirl molten glass mesh mosaic tile, available in eight colors, and two mosaic sizes. The handcrafted tile is suitable indoors and outdoors, including pool. Photo: Emser.
✕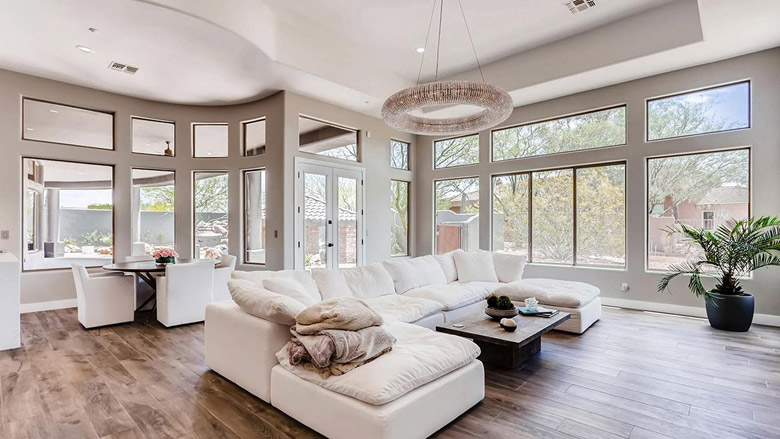 Perfect for patios, pergolas and pools, Legati gives the look of hardwood plank with the benefits of ceramic tile. Photo: Emser.