Singing in the shower just went to another level with new on-trend, durable shower installation products and accessories. They are offering more customization options and a spectrum of finishes to complete any shower installation in a wide range of applications for architects, designers and installers.

Americh: ROC Solid Surface Shower Base
Caption: Americh ROC solid shower base is available in rectangle (pictured) and square. Photo: Americh.
The Made-in-the-USA bathtub and shower base designer and manufacturer, Americh just launched its ROC solid surface shower bases, expanding its current ROC collection portfolio. The new shower bases are constructed using mineral-cast materials combined with specialized agents, to form a natural stone solid surface product. This process provides a high level of structural integrity.
Americh currently offers over 100 different acrylic shower bases available in single, double, neo-angle, low profile threshold and barrier-free styles. With the introduction of their ROC solid surface shower bases, designers and architects can choose from an additional seven sizes.
Square: 32"x 32", 36" x 36", 38" x 38", 42" x 42" and 48" x 48"
Rectangular: 60" x 30", 60" x 32"
Finishes: Matte or Glossy
Color: White (Custom colors available in glossy finish)
Tile Flange: Optional ABS Tile Flange Kit with adhesive strip for field installation
"More and more bathrooms are now designed to be barrier-free," states Kim Frechette, national sales manager, Americh. "Choosing the right shower base is as important as other elements, and now the choices are even more plentiful."

Emser Tile: Empervious Rigid Waterproof Shower System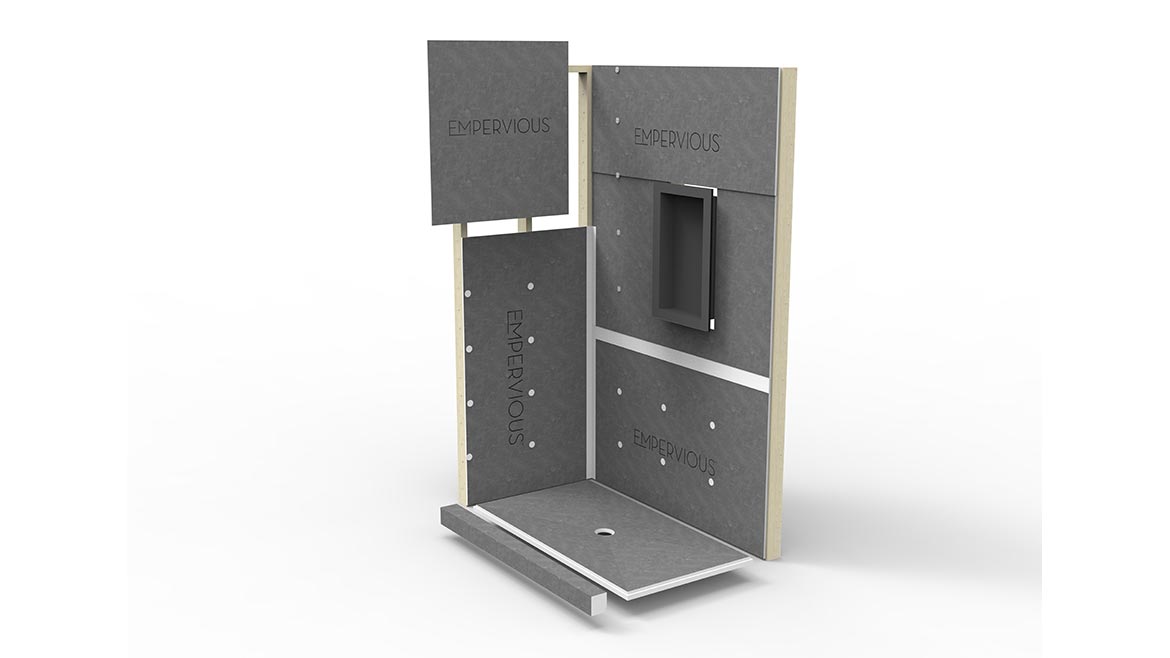 Emser's Empervious waterproof shower system allows for customization. Photo: Emser.
Emser Tile's Empervious rigid waterproof shower system debuted at The International Surface Event 2023. It features a closed-cell XPS foam core and cement coating technology, that when used with joint sealant produces a fully waterproof system allowing for same-day tile installation. When compared to Mud Bed or EPS Foam, Empervious is less complicated with fewer installation steps, allows for customization accommodating virtually any size shower, and has a 10-year limited warranty.
Universal shower pan, available in 14 sizes with extensions available
Foam board, available in seven sizes and a variety of thicknesses
Full foam curbs, available in two lengths
Drain grates, available in four finishes
Recessed niches, available in two sizes
Additional accessories, including tools and materials for a perfect installation 
"Our team is proud to introduce Empervious as the best shower system available in the market today,"said Tiffany Mann, setting materials buyer, Emser Tile. "It hits all the marks as the top choice –100% waterproof, competitive price point, easy to install and quick turnaround on projects, with same day tile installation."

Infinity Drain: Specialty Finish Collection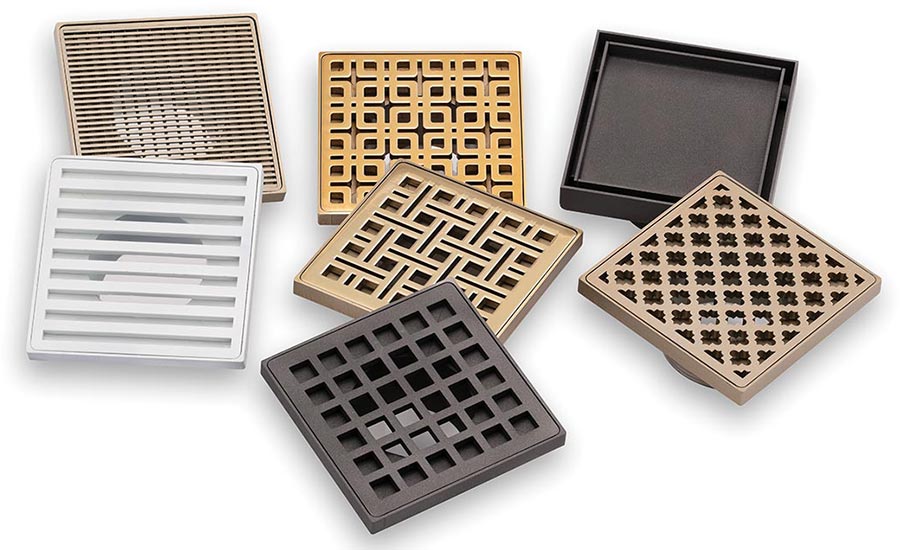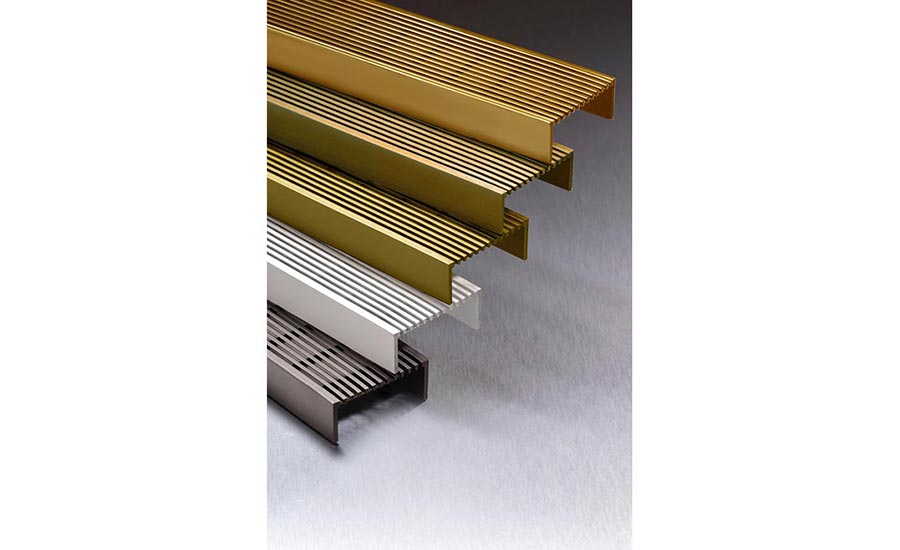 Infinity Drain Specialty Finish collection is now available in five new finishes. Photos: Infinity Drain.
Infinity Drain's Specialty Finish collection is available in five new finishes: Matte White, Gunmetal, Satin Champagne, Polished Gold and Polished Brass. The new finishes will be sold at stocked specialty finish (Polished Stainless Steel, Matte Black, Satin Bronze, Oil Rubbed Bronze) pricing with a ten-day lead time. In addition to these, Infinity Drain offers full custom design capabilities to create linear and center drains to a client's specifications including size, outlet location and color.
"Infinity Drain is a leader in custom fabrication, and we receive many custom requests from specifiers to match on-trend finishes in the bathroom space," states Jonathan Brill, president, Infinity Drain. "Our engineering team refined our formulas for the most requested metallics, mattes and traditional finishes to create a new collection of Specialty Finishes that can be reliably produced on demand within tight time parameters for specifiers. For designers, details matter – and now there is no barrier to match fixtures from top to bottom."

ThermaSol: HydroVive 14 Rainhead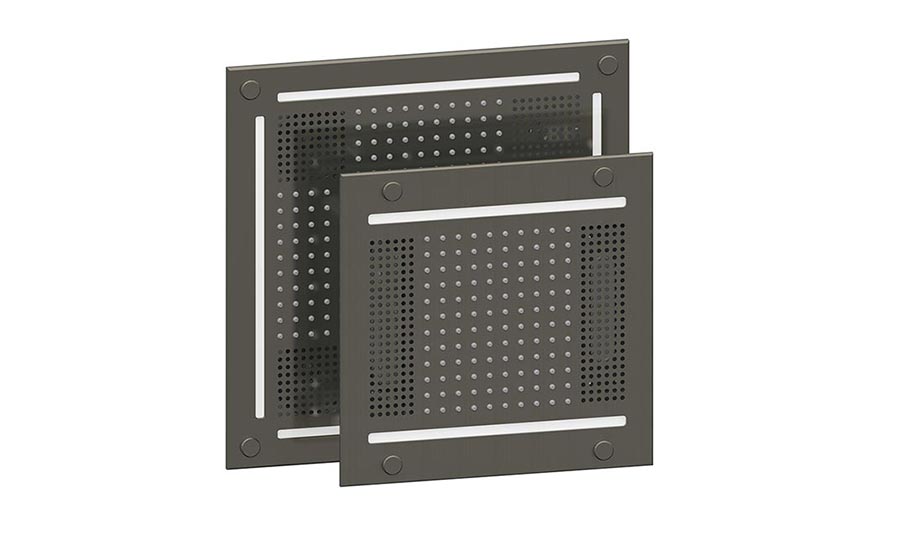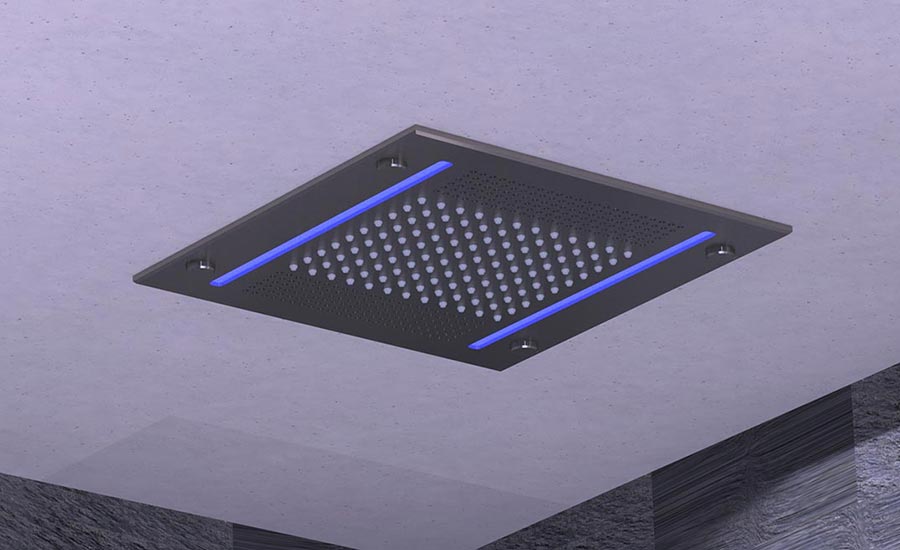 HydroVive 14 is designed to bring the multi-sensory powers of light, sound and water. Photos: ThermaSol.
ThermaSol has introduced another new product to its family of steam and smart showering categories: a slightly smaller version of its HydroVive rainhead called "HydroVive 14."
HydroVive and the new smaller HydroVive 14 both are designed to bring the multi-sensory powers of light, sound and water under the user's complete control. Like its 18" version, HydroVive 14 has a clean, integrated look, and when paired with ThermaSol's Smart Shower Valve and ThermaTouch interface, anyone using the system can personalize every element of their shower.
Brass, ceiling mounted light, sound and rainhead system - all in a single, integrated module
HydroVive 14 delivers a gentle falling water sensation with 120 easy-clean neoprene jets (40-80 PSI, 1.8GPM Water Jets - 300 CEC Approved)
Sound settings include volume, treble, mid-range and bass
Premium Hi-Fi audio output
Bluetooth compatibility
Full Spectrum Lighting + Chromatherapy
Waterproof and steam proof
Compatible with ThermaTouch or SignaTouch in-shower touchscreen controllers
Powered by: 24V DC, 30 Watts power supply (provided)
Available in 15 designer finishes
Custom finishes available on request 
"When the team at ThermaSol designs, engineers and introduces new products, we're delivering to our clients all they desire in the steam and smart shower category," said Patrick Weidl, director of business development, ThermaSol. "Our multifaceted HydroVive 14 rainhead is another solution for projects requiring a smaller footprint without compromising the ThermaSol experience."