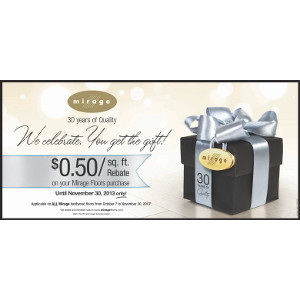 Mirage, the hardwood flooring brand renowned for quality, is proud to announce its Mirage 30th Anniversary Rebate Sale. This major hardwood flooring sale is taking place across North America* at all participating Mirage dealers from October 7 to November 30, 2013.
Consumers get a $0.50/sq. ft. rebate on all Mirage floors during this special promotion. This offer is valid on all Mirage Classic, Mirage Engineered, and Mirage Lock products, regardless of species, color, or width. "In Fall many consumers want to put new life into their home. Thanks to the $0.50/sq.ft. rebate offered on all our flooring during this special 30th anniversary sales event, it is the perfect time to save big while enjoying the quality Mirage floors are known for," said Luc Robitaille, Vice President of Marketing for Boa-Franc, manufacturer of the Mirage brand.
Nearly 2300 Mirage Maestro Dealers through North America are participating in this event. For the rules and a list of participating dealers, please visit www.miragefloors.com/rebate as of October 3, 2013.
* Valid in the USA and Canada excluding Quebec