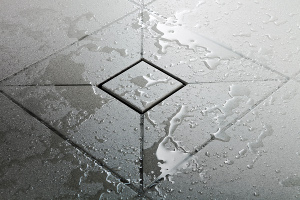 In response to the growing design preference for sleek, discreet drainage lines, Schluter Systems has introduced a new tileable covering support to its Schluter-Kerdi-Drain  product line.
The frameless, tileable covering support features a square stainless steel plate with Schluter-Kerdi laminated on the surface to allow for bonding of ceramic or stone tile, creating a virtually invisible drainage line. 
The Kerdi-Drain is a floor drain specifically designed to allow connections to Schluter-Kerdi or other bonded waterproof membranes. The membrane is adhered to the large integrated bonding flange to form a waterproof connection at the top of the drain assembly. 
The Kerdi-Drain grate assembly allows for lateral and tilt adjustment and accommodates a wide range of tile thicknesses. The covering support is placed flush with the top of the bonding flange and can therefore accommodate any thickness tile covering. 
The tileable covering support is the newest addition to the available grate options for Kerdi-Drain, including brushed nickel, brushed copper/bronze, brushed brass, oil-rubbed bronze, and stainless steel finishes. There are also stainless steel covers available for cleanout applications. 
For more information, visit www.schluter.com.