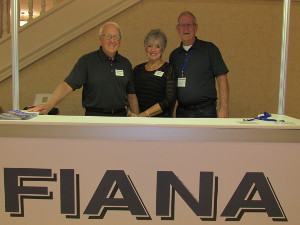 From left: FIANA's Gary and Barbara Verhey, who are retiring at the end of this year, and newly named President/CEO Doug Ray.
At the recent Floor Installation Association of North America (FIANA) meeting in Nashville, President/CEO Gary Verhey announced that he and his wife, Secretary/Treasurer Barbara Verhey, were retiring from theorganization. The Verheys then introduced their successor: Doug Ray, a more than 30-year industry veteran who recently retired from The Cronin Co. after 15 years as product manager, installation supplies.
"I reminded the board that the president is elected every three years, and our commitment has already been longer than that. Barbara and I wanted to retire, so we told them it's time to start the process and to make a change by the end of 2013," Verhey said to attendees on-hand at the opening session. "The board came up with candidates and started the process, and I'm happy to say that Doug Ray will be starting in 2014. FIANA is in good hands."
"This industry is so much fun," Ray told FCI during a cocktail reception at the show. "It's full of wonderful people. I cut my teeth at FIANA, and this is a very relationship-oriented group of people. The show gives them a chance to meet and catch up with old friends who on any other day of the week would be their competitors."
Verhey agreed that "the closeness and relationships" were two things that made FIANA special, during an exclusive interview with FCI. "We don't hold these shows in huge venues, because we want it to be more intimate."
Ray added that among his main goals are to grow membership in the organization as well as expand the level of participation in FIANA University, an online training program for members. "A lot of the installers out there today are trained by their 'Uncle Bruce,' and he doesn't necessarily know how to install floors correctly. We're looking to the next generation of young kids wanting to do this thing and do it right."
Manufacturers submit courses to FIANA University, which can then be taken by FIANA distributor members. Verhey said the more knowledgeable distributors are in the installation process, the more they can help their installer customers. "Distributors say they spend an average of 80 percent of their time recommending products to their customers," Verhey added, making the type of information in these courses vital.
Looking back at his time leading FIANA, Verhey said: "My and Barbara's job was to help this association out during a down economy. As much we could, we were in charge of holding things solid. We also stressed the uniqueness and focus of the educational part of what we do."
Ray stated that he's excited to lead the organization into 2014 and beyond. "There's pent-up demand, people are more optimistic about business – there's all these changes going on. There's a new generation that's ready."
FIANA will hold its milestone 20th anniversary show next year in New Orleans. For more information, visit www.fiana.org.