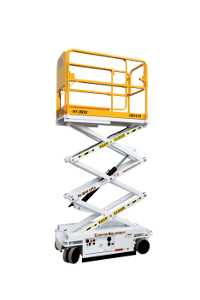 Custom Equipment's Hy-Brid HB-1430 low-level scissor lifts allow contractors and maintenance technicians to complete nearly any project at working heights up to 20 feet. 
In addition, the all-purpose lifts allow end users to handle jobs that include multiple applications from start to finish in industries as diverse as construction, drywall, electrical, HVAC, industrial manufacturing, painting and plumbing. 
HB-1430 lifts are heavy-duty, safe and lightweight, with low wheel loads that allow users to maneuver them over delicate floors and get onto green concrete sooner. They also provide a spacious working area, with platforms that are 25 inches wide by 60 inches long and 30-inch slide out extensions for increased platform length. The lifts can accommodate two people at a time and hold up to 670 pounds, so users can place tools and materials like drywall and ductwork on the platform and reduce the number of trips up and down on a project. The extensions have a maximum capacity of 250 pounds.
Custom Equipment uses state-of-the-art technology to test its designs before building all of its lifts, including the HB-1430. This testing process allows the company to use a high-grade of steel, and because it is stronger, less material is required and the lifts weigh less than competitive machines. In addition, the process identifies stress points, allowing those areas to be reinforced without adding a lot of unnecessary weight.