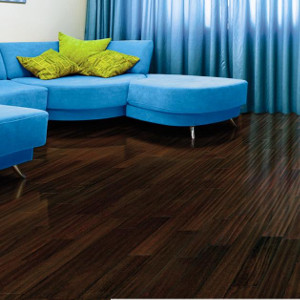 IndusParquet Brazilian Angelim Ebony
Linear design is the use of extended or arranged lines for a clean, sophisticated look.  IndusParquet, Brazilian exotic hardwood flooring manufacturer, is taking that design approach to a whole new level with its LongLength profiles.
The IndusParquet LongLength collection offers profiles with a variety of hardwood flooring planks in seven to eight feet lengths. The longer planks are then mixed in with various shorter planks to create a customized look.
The Brazilian linear flooring is also available in a wide range of exotic color profiles including: the new Dolcé Pecan Latte, Brazilian Walnut, Brazilian Teak, Tigerwood, Brazilian Cherry, Brazilian Ebony Angelim, Brazilian Chestnut and many more. The linear flooring also comes in narrow to wide widths at three, five, six-and-a-quarter and seven-and-three-quarter inches wide.
"Due to our expert sourcing and proprietary manufacturing processes, we offer incredibly gorgeous and durable long length planks for the ultimate in linear design," said Jason Strong, IndusParquet vice president of sales and marketing.
In addition to the LongLength profiles, the IndusParquet proprietary manufacturing processes include:
Breathe, a proprietary natural wood drying process that addresses the unique characteristics of each wood species by giving the wood required time to dry in a fresh air environment where it can breathe and relax—locking in its beauty and strength
ClearVue, a colorless, crystal clear finish that helps ensure lasting durability and beauty
INDURO, an advanced, aluminum-oxide formulation where crystals are embedded as part of the nine-coat process delivering unprecedented scratch and abrasion resistance