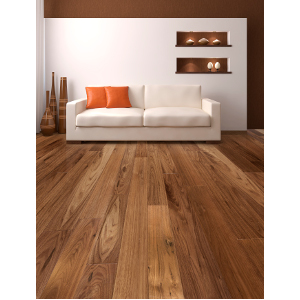 Walnut Rustic is the newest addition to Terra Legno's Annoso Collection.
Walnut Rustic shows the true elegance of walnut with varying streaks of light and dark sap. Ideal for residential or commercial spaces, this walnut flooring is warm and rich, with a unique configuration of the straight grain. There is a low color variance on this product, and low color change when exposed to light over time.
Terra Legno's engineered wood flooring products have the beauty of wood, with the strength and stabilitythat comes from decades of research and technology. "Terra Legno is named after the Italian word meaning 'Earthy Wood'," explains Richmond Eshaghoff, Dyerich Flooring Designs. "Like Italian artisans, we too take pride in our work and the careful crafting of our engineered hardwood flooring that is FSC certified and has been harvested from forests certified to be practicing environmentally and economically responsible forestry."
Walnut Rustic has an oil finish, a thickness of 9/16", a width of 5", a micro bevel edge style, and ranks a 1010 in the Janka Hardness Scale. The Annoso Collection overall is lasting, easy to clean, and can be professionally installed using glue down or staple methods.
To learn more about the benefits of Terra Legno engineered hardwood flooring, visit www.terralegno.com.