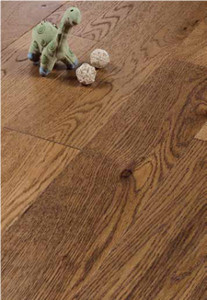 South Mountain Hardwood Flooring has updated its Landmark Series of European Oak flooring. 
Included in this series is the Palisades Collection, which after an extensive R&D program, is now being produced with all markets and customer types in mind. It is characterized by the firm's proprietary brushed/kissed production technique, which elicits a highly attractive surface texture. To further enhance and protect this surface, South Mountain then applies its Natur low gloss urethane. This process brings out the wood tones' resonating warmth and beauty. 
"This combination of handcrafted hardwood, ease of maintenance  and value-oriented pricing offers our clientele great opportunities to create satisfied consumers," stated John Salvador, Vice President of South Mountain. "And in doing so, it also delivers them strong profits."