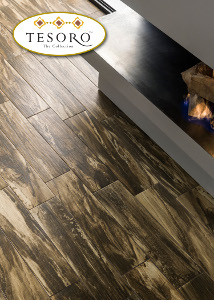 Tesoro's Flashback series with color Brown Petrified.
International Wholesale Tile has launched two new products - Flashback and Galapagos. 
Flashback from Tesoro is an Italian H.D.I.T. porcelain tile with the appearance of petri?ed wood which is rich in tonal detail. Petrification is derived from the Greek term: petro, which means stone. Flashback is available in four colors: Brown Petrified, Gold Fossil, Grey Stone and White Ancient and in one convenient 6x24 size. 
Galapagos, an H.D.I.T. porcelain tile series by Tesoro, features a rustic stone appearance. Galapagos captures the distinctions of natural stone. Galapagos is available in a myriad of sizes, including: 20x20, 13x13, cut-to-size 6x6, 2x2 Mosaic 13x13 Sheet and a 3x13 floor bullnose; and is available in the following colors: Beach Beige, Lava Red, Mist Gray and Shore Sand.