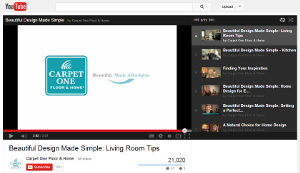 Carpet One Floor & Home is the winner of PR Daily's Social Media Awards in the category of Best Use of YouTube for its Beautiful Design Made Simple video series.
Beautiful Design Made Simple was established to provide Carpet One customers with advice on the whole home, not just flooring, from professional interior designers, stylists and decorators. 
PR Daily commented that the "quick tips and sharable content were key to creating and enticing marketing message."
In addition to being featured on their YouTube channel, the Beautiful Design Made Simple videos are featured in Carpet One's free digital magazine as well as on its blog.
Carpet One will continue to build its library of videos to include more topics and new designers, but its goal to inspire and inform the ever evolving design of its customers' homes remains the same.
Read more about PR Daily's Social Media Awards and Carpet One's winning campaign at http://www.prdaily.com/awards/specialedition/264.aspx