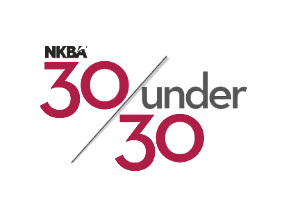 The National Kitchen & Bath Association (NKBA) recently launched its 2015 30 Under 30 program.
The National Kitchen & Bath Association (NKBA) recently launched its 2015 30 Under 30 program, seeking qualified candidates for the upcoming Kitchen and Bath Industry Show (KBIS), to be held Jan. 20 to 22, 2015, in Las Vegas.
"This is a great opportunity for industry professionals to nominate an accomplished young individual who is passionate in his or her profession and forward-thinking about the kitchen and bath industry," said Nancy Barnes, NKBA director of learning. Additionally, the program also accepts self-nominations. 
According to Barnes, the goal of the 30 Under 30 Program is to acknowledge outstanding young professionals, while helping these individuals to immerse and apply themselves to new opportunities for growth and development in support of the industry. 
"As the NKBA's 30 Under 30 program enters its third consecutive year, we are looking forward to recruiting yet another group of talented young professionals," said Barnes. "Previous 30 Under 30 award recipients recognize the program to be a landmark in their careers, and we expect no less for the 2015 group of forward-thinking professionals." 
Past 30 Under 30 award recipients have gained immense recognition from the media, the industry, and customers alike. A significant milestone for Jessica Sterling Altman and Ebony Stephenson, 2014 30 Under 30 award recipients from Newport News, Va., was the letter of appreciation that they received from United States Senator Mark Warner, recognizing their leadership qualities and dedication towards improving their community's living spaces.
"The 30 Under 30 program exposed me to other young professionals that I can directly relate to on every level of my life," said 2013 30 Under 30 award recipient Meghan Murphy. "Their credentials matched mine and they became a resource for me in business as well as in life." 
According to Deena Castello, 2013 award recipient, the months following KBIS were a whirlwind. She returned home more motivated than ever, was welcomed by numerous congratulatory emails and calls from clients, and was also featured in local publications. "The response from seasoned industry professionals has been overwhelmingly supportive and has brought both me and my showrooms to the forefront of the local design community," she said. 
Corey Laurysen, 2014 award recipient said, "Not only has the award allowed me to gain exceptional product knowledge and training, it has also given me recognition across the industry. Clients, co-workers, and other industry professionals definitely see the value in working with a 30 Under 30 recipient." 
At KBIS 2015, the newly inducted 30 Under 30 group will conduct research on key industry-relevant topics. On Wednesday, Jan. 21, 2015, the group will present their findings at Center Stage, share the results of their explorations on the KBIS show floor, and answer questions from the audience. 
For detailed information on the program, visit NKBA.org/30.
The online nomination form can now be found at NKBA.org/30, and all applications are due August 4, 12 Noon, Eastern Time.