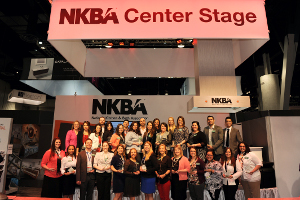 This year's NKBA 30 Under 30 award recipients at the Kitchen & Bath Industry Show.
The National Kitchen and Bath Association (NKBA) will officially recognize the 2015 30 Under 30 at the upcoming Kitchen & Bath Industry Show (KBIS), to be held Jan. 20 to 22 in Las Vegas.
"We are excited to present our 30 Under 30 young professionals at KBIS 2015 for the third year in a row," said Nancy Barnes, NKBA's director of learning. "The program launch in 2013 was a huge success with the group, which included enthusiastic entrepreneurs, forward-thinking CEOs, and cutting-edge designers, all in their 20s."
In a program called "Introductions to the Industry," the 2015 30 Under 30 group will make its debut on Jan. 20, at 10:15 a.m. at Center Stage, NKBA Booth #N2163 and be introduced to the gathering of industry professionals at KBIS.
"Introduced in 2013, the 30 Under 30 program is designed to capture the voice of the next generation of kitchen and bathroom professionals," said Maria Stapperfenne, NKBA's president-elect. "The group scours the show floor for innovations, trends and new technologies, as well as sustainable business practices and emerging business models and then shares these insights with attendees."
At KBIS 2015, the newly inducted group will work on obtaining valuable information on a specific topic from exhibitor feedback and share their findings during a presentation on Jan. 21 at Center Stage. This year the 30 Under 30 recipients will work in 10 groups of three to conduct research on design trends such as sustainability, aging in place and multi-generational, as well as business trends such as global influences, products, systems and more. In this session, the 30 Under 30 group will present their research on critical kitchen and bath industry trends and answer questions regarding any issues that professionals face in their businesses.
To register for the show and/or events, visit kbis.com.