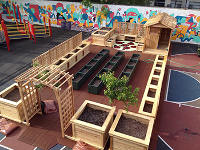 Ecore has donated flooring to "Today's" 'Shine a Light' program.
Ecore is taking part in the "Today's" 'Shine a Light' program, by donating flooring for a school garden in New York City.
This initiative was chosen by host Carson Daly in an effort to raise awareness for childhood hunger and healthy eating. Daly teamed up with KidsGardening.org, a group that's on a mission to build a garden in every school across the country, to educate students on the importance of healthy eating and share what they learn throughout their communities. Some of the food they grow will go back to food banks and some will go home with classmates in need.
"We are thrilled to join in to raise awareness and donate our products for an important cause," said Art Dodge, Ecore CEO. "By helping to create a safe environment for children to learn about their food, we are helping make a difference in children's health and futures."
The flooring donated is made through a unique manufacturing process that transforms reclaimed waste into recycled rubber flooring. In addition to being sustainable, the flooring is tested for slip resistance to prevent falls and injuries, creating a safe surface for kids, according to the company.
To donate to this cause or to learn more about KidsGardening.org and "Shine a Light", visit Carson Daly's fundraising page at Crowdrise.com/Carson. To see the garden's progress and installation, visit the Today show website here.  
For more information about Ecore, visit ecorecommercialflooring.com.