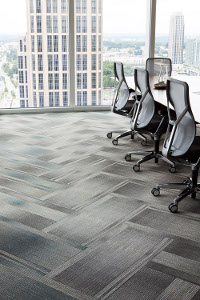 Inception from Invision's new Abstractions line.Abstractions by Invision is an abstract interpretation of colorful textiles, curios, objects d'art and other uncommon trinkets discovered in galleries, boutiques and marketplaces throughout the world, according to the company.Available in 12 colorways, Sublime and Ethereal are 24-inch modular products that come together to create an aesthetic that builds both intrigue and a sense of serenity. The ability for multiple creative installations adds even greater design flexibility enabling Abstractions to meet a variety of interior environment needs.
Sublime features a fluid large-scale pattern that contrasts clean open space with dense, tight areas. With its large motif, Sublime achieves a constantly changing appearance from title to tile. The shifting waves of color and pattern mimic the subtle, fluid movement of trinkets found in various bazaars and shops.
Ethereal is a smaller scale organic pattern coordinate with a broken-grid, bark-like appearance that balances structure with natural movement. A fusion of muted light and color, Ethereal is a space-dyed offering that blends multi-accented yarns to create a calming watercolor effect that is vibrant and dynamic without being overpowering. Its smaller-scale pattern provides the perfect complement to Sublime, but it can also be used alone in a wide variety of applications.
Abstractions contributes to sustainable specifications as both products contain pre-consumer recycled content and are recyclable through the J+J Reclamation Program. It is NSF 140 Gold certified and meets the Carpet & Rug Institute's Green Label Plus standard for indoor air quality. A third-party environmental product declaration is available on Abstractions and all standard Invision products, according to the company.
A loop-pile construction, Abstractions is made with Encore BCF nylon, a 100% bleach-resistant yarn with proprietary ColorLoc Plus stain resistant technology. The collection comes with lifetime warranties for tuft bind, delamination, moisture barrier and dimensional stability.
For information, visit jj-invision.com.