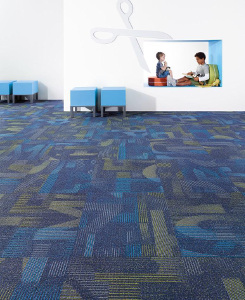 Shaw Contract has added the Cut & Compose collection to its portfolio of education products.
Cut & Compose, a new collection by Shaw Contract Group, is the latest addition to the company's portfolio of education products.
Cut & Compose brings bold, typographic design to interiors, while supporting the Center for Green Schools at the U.S. Green Building Council in its mission to create green schools for everyone within this generation.
1.5% of all sales from this collection will go to the Green Apple initiative to transform educational spaces into healthier, safer, more sustainable learning environments, according to the company.
Letters, numbers and abstract elements are cut, rotated and deconstructed and composed to graphic effect throughout the collection, allowing it to transform learning environments into motivational spaces.
Cut & Compose is offered in three 24-foot tile styles and two broadloom designs.
For more information, visit shawcontractgroup.