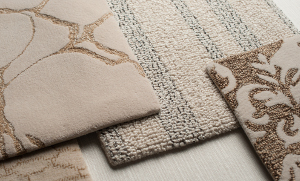 The Vienna Collection, new from Scott Group Custom Carpets, draws on classical elements with a contemporary perspective.
Scott Group Custom Carpets is drawing on classical elements with a contemporary perspective for its new Vienna Collection.
Designers from the manufacturer turned to the late 1800s Austrian artistic movement named Vienna Secession. The movement, which spanned from art to architecture, is often characterized by the application of Art Nouveau traditional motifs in a modern and stylized form.
Using asymmetrical shapes, mosaics and stained glass, along with abstract shapes based on botanicals, the collection ranges from soft textures to artistically distressed looking patterns. Additional influences of Japanese wood block prints can be found in the construction techniques and, more subtly, in line weights throughout the designs.
"We were drawn to the curvilinear and organic forms of the architecture of the time," said Jessica Courtright, senior marketing designer. "We were able to take some classic decorative elements and reinterpret them with a simplified and more modern aesthetic."
The collection consists of a palette of winter white, blush taupes, wheat and warm browns, with metallic silk accents. Created by Scott Group artisans at its design and production facility in Grand Rapids, Mich., the collection features fibers of 100% New Zealand wool, Merino wool and silk.
For more information, visit scottgroup.com.