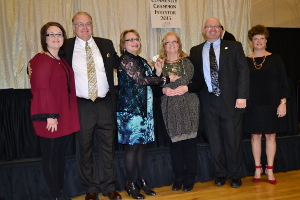 Floors & More won the Bryant Chamber of Commerce Small Business Award. From left, Kim Billingsley, Dan Billingsley, Rae Ann Fields, Brenda Billingsley, Carlton Billingsley and Allison Ramsey.
Floors & More of Benton, Ark., was selected as the 2014 small business winner by the Bryant Chamber of Commerce.
Nearly 500 businesses have the opportunity to nominate someone in each of the five categories: Man, Woman, Organization, Large Business and Small Business of the Year. Once the nominations have been made, the documents are mailed to two other chambers a couple of hundred miles away to judge based on the criteria submitted. The winners are determined by these outside chambers so there is no biased opinion/knowledge of the local companies.
"We were excited to be nominated and humbled that we were chosen over many great small businesses in our community," noted Carlton Billingsley, general manager and vice president of operations for the family run business. "We work hard to serve our community not only through our business, but by the relationships we develop each day."
Floors & More, which was featured in the January issue of Floor Trends, is a residential and commercial operation that has been serving the area since 1979 with the past 33 years in the same location on the border of Benton and Bryant, Ark.
A key reason for winning the award is due to how involved the company is in the local community. For example Floors & More has done the following:
•For the past 25 years it has sponsored the youth baseball/softball and basketball programs to help kids not only learn the game and sportsmanship, but also travel out of town, have better uniforms, etc.
•This past year, the company worked with Toy Troopers to contribute financially to purchase additional toys and food baskets for kids in need in Saline County, but also help distribute the toys to the families who were determined to be in need.
•Contributes to various golf tournaments to help with different causes such as the junior auxiliary that helps the schools by giving them food for their backpacks over the weekend and holiday breaks, and the Boys & Girls Club for various program needs.
•Contributes area rugs, gift baskets and other flooring items for various community groups to raise money through silent auctions and other events.
•Recently organized and led a home makeover project for a family in the community who is always giving to so many people, but their home needed many repairs/upgrades they couldn't afford. "This was a great project that involved many businesses in our community and volunteers to get this accomplished in two weekends," Billingsley noted.
•Contributed financially to feed the volunteer workers in Mayflower, Ark. who were assisting in tornado relief for the homes and businesses that were damaged by one of the state's most powerful storms.
•Contributed to the Saline Razorback club to send kids to their first football game through the Burlsworth Kids, and also to send a group of kids to eat catfish and meet Bret Beliema, head coach of the University of Arkansas football team, for the annual club catfish dinner.
•Hosted a Christmas lunch for friends, customers and community leaders. "We feed over 200 people to show our appreciation for their contributions," he said.
"We are part of many great organizations from our industry and community," Billingsley added, "such as FCA Network, Starnet Commercial Flooring Co-Op, Benton and Bryant chambers, Saline Razorback Foundation, American Subcontractors Association, World Floor Covering Association and many more. We also have an A+ rating with Better Business Bureau."
For more information, visit floorsandmorear.com.