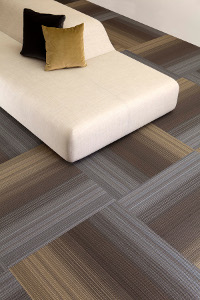 Umbra, new from J+J Flooring Group's Kinetex.
J+J Flooring Group's Kinetex has drawn inspiration from lines and colorations reminiscent of the darkest, innermost shadow of an eclipse for its new Umbra and Umbra Stripe modular plank products.
The sophisticated ombre pattern of Umbra and Umbra Stripe lends itself to the 18 x 36-inch size. Lines of varying breadth and width, sometimes in darkness, sometimes with bright streaks, are seen fainter and correspond to intensified lines. This effect, when set upon a modular plank, creates a myriad of design installation possibilities ranging from sublime and refined to tailored and bold. 
The Umbra pattern blends colors to create a sleek and alluring complexity that provides the perfect multicolored flooring solution. Umbra Stripe offers a variation of Umbra that features a bright contrasting linear element and a selection of colorways that complement four of the seven Umbra colors.
Varying dusky shades of neutrals and deep hues comprise the Umbra colorline, while Umbra Stripe offers linear pops of amber, crimson and blue.
For more information, visit jj-kinetex.com.