Breaking Flooring News
TalkFloor News
Area Rugs
Surya Collaborates with Clairebella for Miranda Collection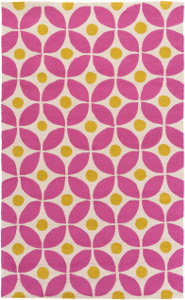 Surya has collaborated with Clairebella for the new Miranda collection.
Surya will debut at High Point Market, taking place April 18 to 23 in High Point, N.C., a colorful line of outdoor-safe rugs from international lifestyle brand Clairebella.
The collection, named Miranda, artfully merges organic designs inspired by nature and found objects with a vibrantly hued palette to bring a bold, fresh aesthetic to both indoor and outdoor living spaces.
Founded in 2003 by Kathy Denness, president and designer, Clairebella has grown from a small boutique line of baby products to become a top-selling provider of personalized gifts ranging from stationary/office products and lifestyle items to a kids collection and home accessories.
"I have always been drawn to great design and its ability not only to express personal style but also to create that distinctive 'wow factor' that makes an instant statement," said Denness. "With this new collection, the Surya team has done a great job of translating my designs into a 'preppy meets bohemian chic' look that is fun, modern and perfect for those with a passion for stylish living."
Hand-hooked of 100% polypropylene, the collection includes four distinctive designs, each of which is available in multiple colorways.
"As we continue to expand the breadth and depth of our offerings, we are incorporating more designs that will appeal to the youthful, energetic consumer," said Satya Tiwari, Surya's president. "Clairebella's inspired fusion of lines and color brings a fresh and dynamic look that lends itself to a variety of living environments, and we look forward to sharing these new designs with our customers."
Market attendees are invited to explore the Clairebella rug collection at Surya's flagship showroom—Showplace 4100—which will be open daily from 8 a.m. to 8 p.m. Surya is also hosting educational and social events and will serve a complimentary hot catered breakfast and lunch each day, along with hors d'oeuvres and cocktails each evening.
Market visitors who pre-register for an appointment with their Surya rep by visiting surya.com/market-registration/ are eligible to receive 10% off of their market order (no minimum).
For more information, visit surya.com.


I want to hear from you. Tell me how we can improve.