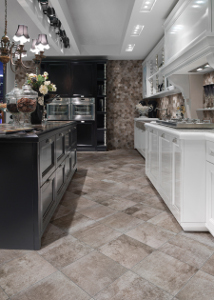 Florida Tile's new HDP-High Definition Porcelain line, EarthstoneHDP.
Florida Tile's new High Definition Porcelain (HDP) line, EarthstoneHDP, is available in four earthy tones as well as the look and feel of hand-cut stone block for floors and walls.
"EarthstoneHDP would not be possible without the company's proprietary HDP technology which marries the look with the feel of real stone. It's a major departure from the classic stone tile looks of the past," said Sean Cilona, Florida Tile's marketing director. "Minimal veining is accented by lighter background colors in each graphic." 
He added, "This is all further highlighted by the intricately detailed texture of the stone-like surface, complete with slight indentations, chips and chisel marks of a hand-cut stone."
EarthstoneHDP is decorated with several listello options for each color of field tile, chair rails and corners, mosaics and bullnose. 
For more information, visit floridatile.com.