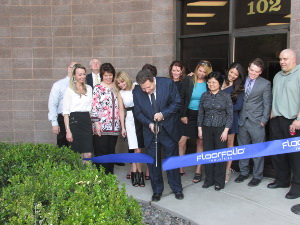 Michael Freedman, president and CEO of FloorFolio Industries, cuts the ribbon to officially open the company's 60,000-sq.-ft. manufacturing facility in Edison, N.J.
Yesterday, FloorFolio Industries officially opened its first U.S. manufacturing facility for its patented EnviroQuiet Luxury Vinyl Tile (LVT).
Michael Freedman, president and CEO, who cut the ribbon in front of employees and invited guests, including local politicians, and said the factory will not only increase FloorFolio's overall capacity for EnviroQuiet, it will bring jobs and production back to the U.S. "This will be our first step of many more to come for FloorFolio as we continue to expand our presence in the U.S."
Located in Edison, N.J., he said the 60,000 square-foot facility allows FloorFolio the capability to domestically manufacture its double-patented EnviroQuiet LVT.
He told Floor Trends the facility is currently able to produce 70% of the product and will soon be up to 90%, with the ultimate goal getting the entire line domestically produced. "Our goal is to have this place  running 24/7, making upwards of 10 million square-feet of product per year."
With the demand for EnviroQuiet on the rise, Freedman noted, "This factory has emerged at just the right time. EnviroQuiet has proven that one installation and one cost can be the solution for end users. Eliminating the two-step process of laying down the underlayment and then installing the tile, FloorFolio's EnviroQuiet has an integrated sound reducing underlayment that is permanently attached to any of its LVT collections. This factory will provide endless solutions, and is just the beginning of things to come."
For more information, visit floorfolio.com.