Good flooring design incorporates seamless transitions between rooms and flooring materials. Specifiers and installers must collaborate well, and crews must work skillfully and meticulously to create smooth shifts from one type of flooring to the next. Floor Trends looks at some top projects that created beautiful transitions and the transition tools and techniques that made them happen.
 
Top Projects Overview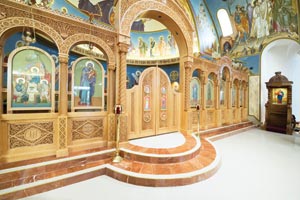 The Certified team used a bonding agent to cover the polished concrete surface, eliminating the need to shot-blast, which could have potentially damaged the church's painted treasures.
The Holy Trinity Greek Orthodox Church in Carmel, Ind., is a model of the creative beauty synonymous with the Greek Orthodox faith. When the church decided to have the floors and some vertical spaces dressed in tile and stone, a challenge arose in the form of surface preparation. Innovation and determination, along with the expertise of CJK Design Group, Daltile, Armstrong Flooring, Tarkett/Johnsonite and MAPEI were necessary in order to exceed expectations by completing the 12,500-sq.-ft. project under budget and ahead of schedule.
Eight years previously, the floors were finished in polished concrete, producing a non-porous sealed surface that did not offer the proper finish for the installation. Traditional shot-blasting could not be used because of the damaging effect it would have on the delicate icons and painted frescoes created with a centuries-old process using egg tempera paints. Innovative technology produced a solution that circumvented tradition and provided a breathtaking foundation. Certified Floorcovering Services, a Starnet flooring contractor serving the greater Indianapolis area, was contracted to preserve the beauty that lines the walls and ceilings of the narthex, nave, sanctuary and ambulatory at Holy Trinity.
The project came with challenges, including substrate preparation; working in an occupied facility; maintaining a pristine, dust-free environment; and coordinating work with other trades. The Certified team used an innovative bonding agent to cover the polished concrete surface, eliminating the need to shot-blast which could have potentially damaged the church's painted treasures. Next, they tested and used a new self-leveling liquid skimcoat to patch and smooth all floor surfaces, reducing dust worries. They also used a liquid membrane for crack isolation on the concrete flooring.
Once the floors were prepared, installation crews worked meticulously, transitioning between various types of porcelain tiles and marble to produce a look that complemented the intricate icons and frescoes. The crew hand cut many tiles to fit around existing structures in the church and tiled a number of vertical elevations in addition to the floor. They installed glass tile along the inner walls of the baptistery and interspersed the tile between fabricated marble pillar facades on its exterior. Epoxy mortars were spread over the top of traditional thinset to accommodate porous natural stone. In the narthex and nave, they set four mosaic medallions that continued the iconography from the walls to the floor.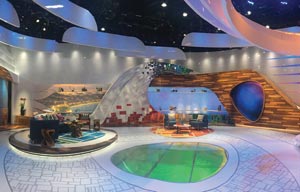 The focal point of the floor is precise-white vinyl tile by laid out in non-concentric ellipses enhanced with metal shimmer accent tile.
Rio de Janeiro was announced as the host city for the 2016 Summer Olympics in October 2009, allowing more than five years to plan and build the Olympic venues. However, just five months before the games began, ReSource New Jersey was contracted to work with NBC Sports, HD Studio, and Black Walnut Fabricators on the design, procurement, fabrication, logistics, and installation of the NBC Sports 2016 Summer Olympics Studio.
The entire project was installed and finished by ReSource New Jersey's INSTALL-certified team of journeymen. Working halfway around the world with limited supplies and time wasn't a deterrent to this team of experts—it was an opportunity to flex their installation muscles and create a unique and stunning flagship studio.
The focal point of the floor is precise-white vinyl tile by Amtico laid out in non-concentric ellipses enhanced with metal shimmer accent tile and high glosses finish to dazzle television audiences. ReSource New Jersey has a long-standing relationship with NBC and the teams at Black Walnut and HD studios. The contractor has completed projects at the iconic 30 Rockefeller Plaza for years, and its reputation as a quality service provider with an INSTALL certified team has helped them grow rapport with each new success. They are quick and responsive, and since most television studios are put together at the last minute, they have the experience to deal with logistical issues. An especially important qualification when working in foreign countries and on constricted timelines. This is why NBC Sports and Black Walnut came to ReSource New Jersey for the 2016 Summer Olympics Studio.
One of the first challenges occurred long before the team ever stepped foot in Rio. The original design concept called for custom-printed flooring that could be installed in large swathes. Television studios like these are not large spaces, and there isn't a lot of square footage visible on camera. Therefore, big suppliers and manufacturers are often reluctant to take the time to complete custom designs when they will only sell a limited amount of product. Due to this, ReSource New Jersey had to go in a different direction. They specified white vinyl tile with a cobblestone accent on top, and used a decal to achieve the look that NBC Sports and the design teams desired. Material procurement and design therefore go hand in hand. ReSource New Jersey didn't have a lot of time to prepare for the job and had to move very quickly to get material ordered and delivered to its warehouse. This included luxury vinyl plank in five different wood species native to South America that would be used in flooring, platforms and scenery. In addition, every single installation tool needed to be packed and sent to Black Walnut for shipping. This included lasers, copies of the plans, adhesives, materials, 100-pound rollers and patch. The items, along with set pieces, furniture and television cameras were then sent together via cargo ship to Rio and unpacked on site.
When the installers arrived, everything was staged and ready to roll in the facility. Black Walnut created a floating access floor that had cables running underneath. Ardex patching was applied to the seams of the plywood and layout began immediately. However, dimensions were a challenge. Since all layouts, cutting, and installation of the complex non-concentric ellipses had to be done out in the field, the installation team had to make on-site decisions with Black Walnut based on scenery and camera angles. In order to relieve concerns regarding heavy rolling loads and 24-hour foot traffic, ReSource New Jersey used Spray-Lock Eco Adhesives throughout the project. Since designers and technical staff needed to use the space immediately after the flooring went down, this was the only way to ensure a successful installation and maintain the stringent timeline.
Thanks to a highly trained and focused team, ReSource New Jersey's installation and the resulting studio outfits were built and completed on time, allowing NBC Sports an adequate time for camera set ups, rehearsals before the live broadcasting of the summer games.
 
Rio de Janeiro, Brazil
Architect: Tetra-IBI Group / BFGC-IBI Group JV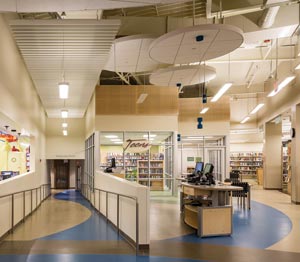 The Village Square Branch Library project featured 13 different flooring materials.
The Village Square Branch Library is a new community library serving the needs of South East San Jose, Calif. The 16,000-sq.-ft. facility includes community areas, a tech center, children's library area, as well as outdoor patio spaces. This bright and colorful community building was designed to be a welcome addition to this young family-oriented neighborhood environment. With clerestory windows, an open floor plan and a cheerful interior color pallet, this project brought together an assortment of flooring surfaces to create thoughtful and inviting interior spaces.
San Jose-based Harry L. Murphy, a Starnet contractor, was commissioned to manage the flooring installation. Incorporating round insets of carpets within carpet, seating and reading areas were set apart from book stacks. By using playful insets of various colored resilient flooring (1,700 yards), the architecture firms Tetra-IBI Group in Los Angeles and vent BFGC-IBI in San José designed curvilinear pathways directing traffic flows. They added playful elements to the children's area by adding a radian design, inset numbers and clock face to the floor design.
Click here to see the newest transition products from top manufacturers
While project layouts, in this case using 13 different flooring materials and colors, are always a concern, incorporating a water-Jet company from out of state brought a level of uncertainty. But Creative Edge Master Shop of Fairfield, Iowa, used computer-aided design drawings to fulfill the order in a timely manner.
The more challenging aspect came in combining specified flooring materials of differing thicknesses (Armstrong Medintone sheet vinyl and Flexco TuflexForce recycled rubber tiles) to create a smooth and professional installation. Careful application of floor prep materials, including Koster's VAP 1-200 concrete vapor emission control system and materials from Ardex Americas, combined with expert installation, following seam layout drawings, resulted in the final execution of the architects' vision.