A floor installation is only as good as its foundation. Here we talk about the latest innovations in surface preparation tools and installation materials.

EcoPearls by Unifloor
EcoPearls general purpose leveling granules were developed to give instant, stable, dry-leveling of irregularities such as dished and warped floor boards, pipe channels, feed lines and floor height differences from 0 to 180 mm that result from building alterations or extensions. The natural wood chips with mineral coating make EcoPearls lightweight and easy to handle. To use, the installer pours and spreads dry granules to fill and level the low area. Excess granules are swept up for re-use, so there is no waste. The mineral coating makes the granules mold resistant and acts as a binding agent to prevent movement, even when used to create a shallow ramp between floor heights. In deep-fill situations, the angular shaped granules are easily compacted by tamping with a short batten to remove air pockets, locking them permanently together. One 50-liter bag provides the equivalent bulk of more than three bags of smoothing compound, but weighs and costs about the same as one.

Schönox Renotex 3D System
The apartment, multi-family, and senior housing segments are growing rapidly. Innovative solutions to fulfill sound dampening, insulation, and fire-resistance requirements have been developed in response to this growth. Schönox has engineered the Renotex 3D System to not exceed these demands. This versatile and custom-designed system combines Renotex 3D, a sound and insulation sheet, Schönox RS 50 foam tape, and Schönox AP Rapid Plus. This provides a fast and cost-effective subfloor renovation system that reduces labor expenses as well as excessive time and material waste. Once the system is in place, you have a smooth, level, and long-lasting surface ready for installation of a variety of floor coverings. 
Designed with sound-dampening and fire-resistance in mind, the technology also allows for fast turnaround times, and the company says the products havedust-reduced qualities, helping keep the environment clean.  

Laticrete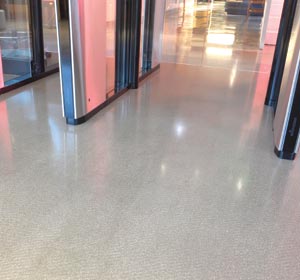 Supercap SC650-MC is a fine-sanded, pumpable and pourable, low alkali cement-based, self-leveling topping that is suitable as a high-strength wear surface or underlayment. SC650-MC is the first high-volume self-leveling underlayment of its kind that flattens floors all while producing durable and low maintenance finished wear surfaces for an all-in-one solution. SC650-MC is ideal for education, healthcare, retail, hospitality, corporate and government applications that need a fast turnaround time and is a component of the Supercap Ready-Mix Delivery Service. For those that choose to use SC650-MC as an all-in-one self-leveling and finished flooring solution, the product produces a coarse salt and pepper look that can be left as is or tinted in 22 standard vibrant colors, with custom colors available upon request. 

Uzin Utz NC 112 Turbo Generation S Leveling Compound
Uzin NC 112 Turbo Generation S Premium Leveling Compound is a synthetic gypsum-based leveling compound with an innovative hydration process that allows for installation of most floorcoverings after just six hours. The new formulation provides a solid and durable finish over difficult and mixed substrates and its optimum performance ensures peace of mind, even in difficult and demanding jobsite conditions. It's essentially cover-ready, which eliminates the labor cost involved in post installation surface preparation. Other features include exceptional compressive strength which creates great load-bearing capacity; superior flow characteristics that result in a flat, level, smooth and cover-ready surface; and the synthetic gypsum formulation develops extremely low tensile pull and reliable stress-free drying and curing. It also meets both the EMICODE EC 1 PLUS certification and CA Section 01350 requirement for healthy indoor air quality and it meets the requirement as a LEED v4 contributing product.  

Mapei Ultrabond ECO 907
Mapei introduces Ultrabond ECO 907, a fast-curing, 100%-solids, silane-modified polymer, gun-grade adhesive designed for basic wood subfloor construction. "This moisture-curing product is also great for repairing wood flooring, installing wood molding and baseboards, bonding wood stair nosings, and attaching tackstrips to concrete subfloors," said Jeff Johnson, Mapei's business marketing manager for floor covering installation systems. "It will also act as a supplemental bond for wide plank boards when nailing and gluing are required."
Designed for use in interior settings, Ultrabond ECO 907 works to bond most common construction materials, including plywood and lumber framing, engineered and solid wood flooring, carpet tackstrips, and polystyrene insulation boards. 
"One of the great features of this product is its two-hour cure time," Johnson stated. "Simply extrude and go. This product reduces installation time, providing high bond strength and excellent elongation properties in a fast-curing adhesive."
Ultrabond ECO 907 is suitable for installation over a variety of substrates including concrete and cement terrazzo, ceramic tile, cement-based self-leveling underlayments and patching compounds, exterior-grade plywood and other approved wood underlayments. Also works over even installed radiant-heating systems. 

Titebond 780 Multipurpose Flooring Adhesive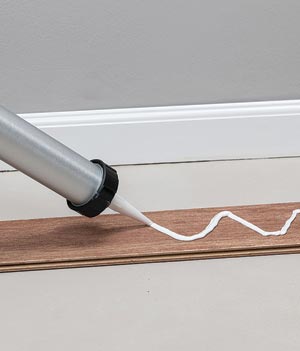 Titebond's 780 Premium Multi-Purpose Flooring Adhesive is a latex adhesive that provides a strong, permanent bond to all types of carpet, felt-backed resilient sheet goods, cork rubber tile, luxury vinyl tile (LVT) and planks, installed on a wide range of porous and non-porous substrates. With fan assist, installers can begin to lay flooring within five to 10 minutes from adhesive application. The adhesive also offers fast tack and excellent 24-hour re-bond properties. Its fast-grab capability reduces curl in sheet goods, while a long working time gives installers a sufficient period to ensure proper positioning. 
Application guidelines recommend the appropriate trowel based on type of floor covering. Installers can easily clean up the adhesive when it is still in the wet state with either water or Titebond Adhesive Remover Cleaning Wipes. It is environmentally safe, with a VOC content of only 25 g/L. Installers and their clients experience no unpleasant or lingering odor. It also is freeze/thaw stable, nonflammable and water-resistant. The product is available in one- and four-gallon plastic pails through flooring specialty stores, builder supply stores and flooring distributors.