With everyone stuck at home this year, more homeowners are expanding the function of their houses, transforming them from homes into multifaceted spaces that can serve as anything from a gym to a workplace and backyard oasis, and in many cases, an elementary, middle or high school. Though these projects can be costly, consumers are taking advantage of credit options that allow them to comfortably revamp their spaces without the stress of breaking the bank.
In a recent CNBC article, "Pandemic Home Remodeling is Booming: Here's What Your Neighbors Are Doing," Washington, D.C., homeowner Justin Sullivan is just one example of the multitude of homeowners who have taken steps to transform their house into a retreat during the pandemic.
Sullivan said, "The pool, the home gym, the sauna—those are things that when you're not able to go out, your house is an enjoyable space where you can live bunker-style and still be active, still feel comfortable, and still enjoy. The kids will have spaces to make sure they can work from home, and when it gets really hot in the summertime, they'll have a place where they can cool off."
Sullivan is not alone. In a home improvement pulse survey, recently conducted by LightStream through Wakefield Research, nearly three out of four homeowners, or 73%, are planning renovations this year, despite the pandemic.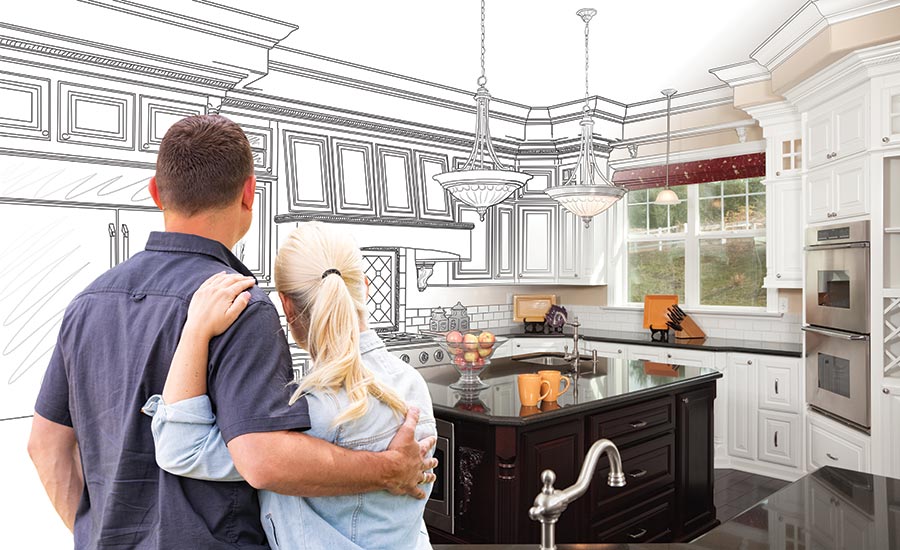 According to LightStream, 63% of those surveyed plan to use their savings to pay for home renovation projects, while 31% plan to use credit cards. On the flooring side of things, manufacturers have partnered with financial services companies to provide end users with special financing that gives them time to comfortably pay for that aspect of a home renovation, as well as the ability to consider flooring for additional projects.
Flooring remains a popular large purchase for consumers using credit as a tender. And, digital applications for credit continue to rise, says Jeff Surratt, senior vice president and general manager of home specialty, Synchrony Financial. In fact, according Synchrony's most recent annual consumer purchase study, flooring category shoppers have spent less time researching their large purchases as the average number of days researching decreased by 15 percent.
"Our marketing and product teams began collaborating the first week shelter-in-place orders went into effect," said Carrie Edwards Isaac, vice president of marketing and consumer strategy for Shaw's residential division. "We knew we needed to act fast to help our retail partners respond to rapidly shifting consumer purchasing habits and we anticipated interest in home improvement projects would continue to grow. We got to work developing creative ways to help retailers connect with consumers, such as leveraging our new Floorvana+ visualization tool during virtual consultations. We're equipping our retail partners with the tools and skills needed to adjust to changing business demands. As needs shift, so will our support—we're in this together."
One of the tools Shaw has equipped its retail partners with is the Wells Fargo Credit Card Program, which grants 12 months special financing to consumers with approved credit at 0 percent cost to the retailer.
Partnering with this well-known financing provider, Shaw has given consumers the ability to conserve their cash and other lines of credit for other purposes, and to pay for what they want today, over time.
"We're committed to finding solutions for our customers and end-users," said Blane Haywood, vice president of channel strategy for Shaw's residential division. "Whether that's leading the industry in hard and soft surface product innovation or being a trusted partner in uncertain times, Shaw is here every step of the way."
Through a simple in-store, in-home or online application, credit decisions are made on the spot, giving customers immediate accesses to a credit line upon approval. And with special financing terms, Shaw's Wells Fargo Credit Card Program gives customers access to special promotions that may not be available to them when using a general purpose credit card.
Similarly, Mohawk has partnered with Synchrony to serve customers looking for financing to get their dream floors with less stress. 
"We have a variety of flooring partners across the country and have more than 8,500 flooring locations as part of our flooring program, said Surratt. "These programs enable our partners to offer competitive financing options, programs and services that help make payments more manageable for their customers."
According to the manufacturer, 57% of major shoppers surveyed say they would consider financing if it meant they could bring their product home the same day. To the benefit of both the end user and retailer, the Mohawk Credit Card Program not only allows consumers to move beyond price, focusing instead on products and services that fit their needs, but it allows retailers to differentiate their business and level of service by offering easy and flexible ways to pay, which provides a competitive edge.