Scavenging for blank paper in any place she could find it, including her dad's work papers, Charla Pettingill, was designing and illustrating before many children knew what pens were. In first grade, she did commissions for the other students for 25 cents each, unknowingly drawing her way toward a design career in the flooring industry.
"From a very early age, I drew constantly and was very interested in art," she said. "I continued to draw throughout elementary and middle school, won multiple art contests, and always received encouragement from teachers to keep drawing and expressing myself with art." 
Once in high school, Charla's art teachers made a point to introduce her to art as a career. She admits it was something she had not really thought about, but once the seed was planted, she signed on to attend the Savannah College of Art and Design (SCAD) in Savannah, Georgia, where she majored in illustration. Following college, she moved to the Atlanta area where her artwork found its way into magazines such as Highlights for children as well as some other local publications. From there, her résumé grew to include a number of big box retailers and large chain restaurants.
"Some of the cool things I worked on at the kids and family marketing company were cups, activity placements and color sheets for well-known, quick-service restaurants like Buffalo Wild Wings and Hard Rock Café," she said. "From there, I went on to create gift wrap, greeting cards, and gift bags for another local company. That was exciting to see those products in major retail stores like Target, Walmart and TJ Maxx."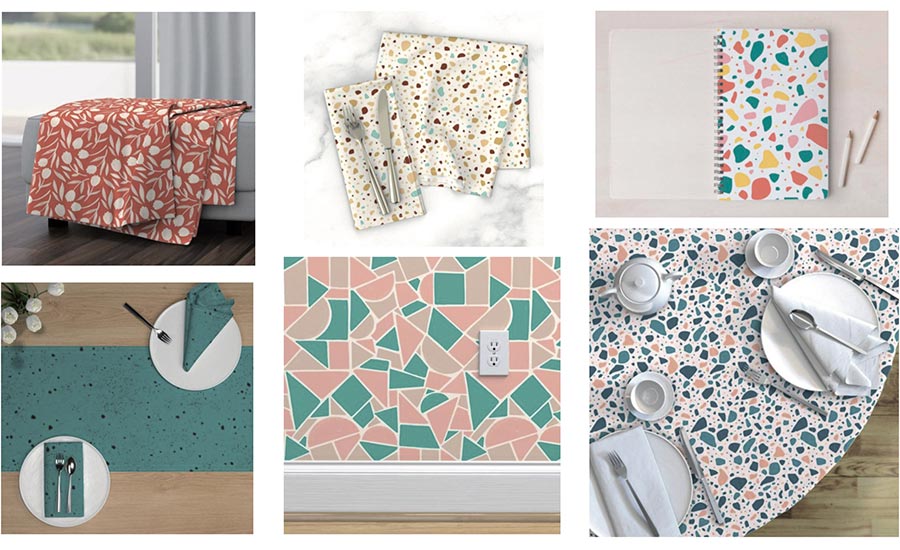 Gift wrap and resilient flooring are not that far apart in terms of the manufacturing and design processes. Charla admits this relationship is what led her to Shaw in the first place.
"I came on board at Shaw in 2017 as a hard surface designer, and now, I am about three months into my new role as director of creative product design for hard surfaces for the residential team. It's been a journey of paper goods just different forms," Pettingill said.
Charla returns to paper goods, studies fashion and examines fine art to find inspiration for flooring, keeping texture, color and the customer top of mind.
"I'm definitely seeing customers embrace color more and pattern as well," she said. "I think they are getting a little more adventurous and embracing self-expression. I think we are seeing more creativity infused into these products." 
Shaw Contract's woven LVT hybrid floorcovering ReFrame is one of the products Charla designed during her previous role. Each color option travels from a soft neutral to a sharp color, creating an ombre effect that repeats across the flooring installation. The colors can be mixed and matched, resulting in a look that resembles an artist's paint palette where the brush drags each paint color into the next.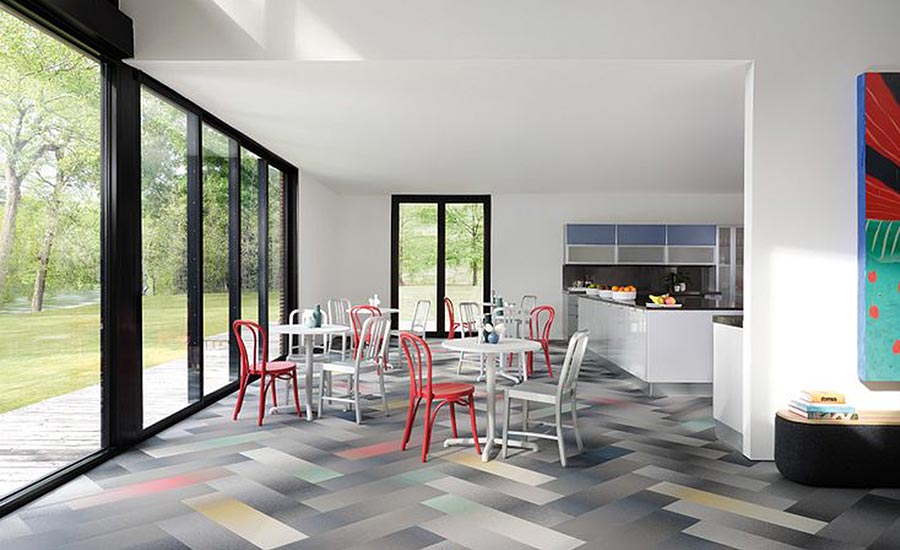 Charla's talent for repeat patterns plays out in her work on Shaw Contract's Mindset LVT floorcovering. Each abstract tile is patterned through its texture but has a slight variation in color between the tiles, allowing for a subtle pattern-within-a-pattern installation.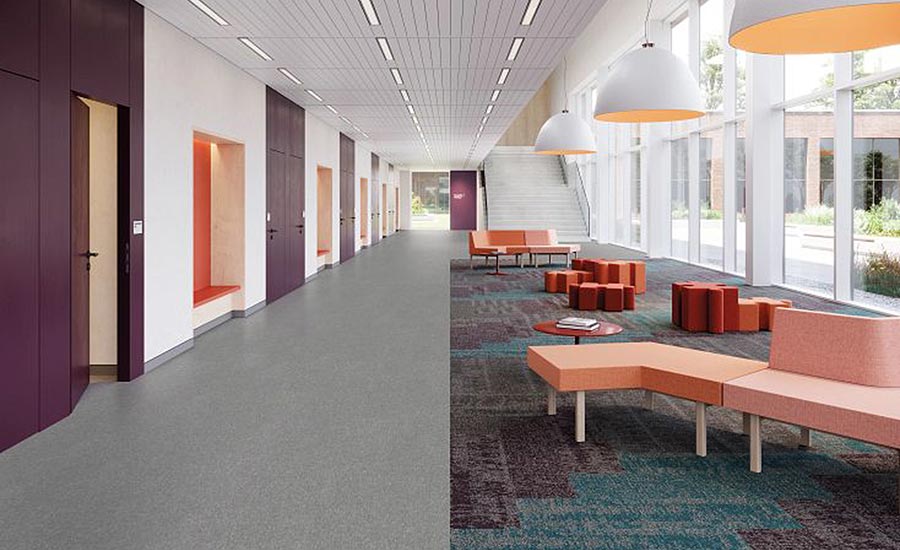 In her current role, Charla infuses her specialization in repeat patterns with Shaw's flooring innovation to come up with a new collection for 2022 that will offer the company's largest resilient pattern repeat to date. According to Pettingill, Shaw is taking a pattern repeat that is typically 24 square feet up to 200 square feet.
"I'm most excited about the digitally printed collection that we are launching early next year," Pettingill said. "This innovative collection will offer three beautiful wood visuals and beautiful, raw, natural colors for an incredibly realistic, authentic result." 
While the future of flooring design can oftentimes be uncertain, it is up to the Charla's of the industry to keep her thumb on the pulse of current trends as well as predict emerging ones. She sees a bright future filled with even more creative freedom ahead. 
"I think there's never been a more exciting time to be in this industry. The industry evolves quickly, but I think that there is an optimistic outlook. People are willing to express themselves through their spaces and get creative so, I think we can really get creative on the design side with Shaw and our future launches."