June was a big month for Bentley Mills. The firm showcased its newest collection, Modern Curator No. 1, in its showroom just outside the Merchandise Mart during NeoCon and alerted Floor Trends to the fact that Jay Brown just took the helm from long-standing leader, Jim Harley. As of June 1, 2022, Brown took over as the president and COO of Bentley Mills. 
Brown served for nearly two and a half years as vice president of operations, coming on board at the start of the pandemic. Floor Trends caught up with Brown following the show and spent some time talking with him about his new role, the challenges he and the company had to overcome during the pandemic and what he foresees for the hospitality market in light of the recent growth in the segment.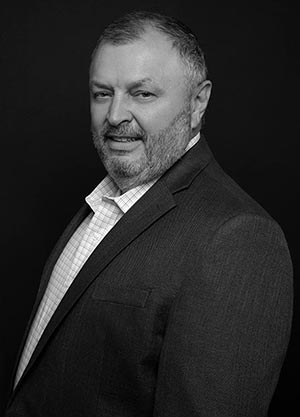 Floor Trends: What sort of feedback did you receive from attendees at NeoCon on your products? 
Brown: I think a lot of people were just interested in seeing the Bentley brand and understanding where Bentley was in the yarn transition. That was a topic of conversation on a lot of fronts. We showcased some Nylon 6 product, and that's a big transition for Bentley, but it was well received. 
Vicki deVuono and the marketing and product teams did a great job putting it together, having the space very fluid. The overall theme of who Bentley is and what we were showing was well done.

Floor Trends: You started with Bentley right when the pandemic hit. What hurdles did you have to overcome to keep operations moving forward? 
Brown: My family and I moved to California on January 6, 2020. We started here in April, and the pandemic had just hit. The uncertainty of the shutdowns and the mandates and all of that were front and center so to speak. The biggest thing for us was to maintain our workforce because Bentley is blessed to have very long-tenured employees. We wanted to keep that talent here and make them and the operation as safe as it can be, so we took lots of steps to keep the business moving and keep our employees safe.
We staggered shifts. We did a lot of things to facilitate us being in the building, and we were able to keep our operations moving to weather the pandemic. We looked at different ways to celebrate our milestones when we can't have a big picnic and can't do other things. A lot of thought went into how to reward people for their work and thank them for keeping the mill going during a tough time. 

Floor Trends: Tell us about the transition to your new role. 
Brown: I have been fortunate for the two and a half years or so to be able to work side by side with Jim [Harley] and understand the business and understand what we are and who we are and how we run the business. It's been a relatively easy transition for me just from being here with him every day for a couple of years. 

Floor Trends: Did you experience any challenges during the transition? 
Brown: No challenges for me during the transition; however, I know you are aware of the yarn transition we've been going through. That has been a challenge. Of course, we're mostly over the hump on that and our business is good. The barometer for us is we're shipping more carpet this year than we did last year, so we continue to be in a good spot and are very blessed with our order bookings. 

Floor Trends: What plans/ideas have you envisioned for the company now that you are the helm? 
Brown: The things that I wanted to implement in operations—we had already done those over the past couple of years. The big thing for us now is adding capacity. We have equipment that is being delivered this month and then, more next month to help us continue to grow our capacity. 

Floor Trends: Can we get an update on Bentley's hospitality program? What's new? 
Brown: When you look at our core business which is heavy in our ColorPoint business. That's the capacity we are adding right now. We were stretched and running extended days to meet the demand, so that's really where our focus is. 

Floor Trends: What's trending in the hospitality market? Any changes there? 
Brown: What has had a really big resurgence is broadloom. Our broadloom business is very robust right now and continues to do well. We have a very good collection and portfolio out there in LVT, and that continues to grow well for us too. 
I don't want to mis-state that modular carpet is not growing for us. It is growing for us, but the broadloom was a bit of a surprise bounce back. It went up substantially and fortunately, we are able to supply enough to do well with commercial broadloom. 
Our six-foot business is growing. Right now, it's primarily in the education market, but the six-foot roll good business is also doing well for us also. 

Floor Trends: What's new with Bentley's resilient products? 
Brown: I think like everyone else our challenge over the past year has been transportation or freight. We have seen that improve greatly over the past few months and that allowed us to get caught up and build our inventory. [The resilient business has been] "sell it if you have it." So, when the inventory gets low, you struggle to sell it and grow that market. We've been fortunate to be able to build our inventory and have a good, more repeatable supply chain coming in. Our LVT comes out of South Korea. That market is back open and doing well. 
We are launching a stone collection in the coming weeks, Balustrade and Colonnade, to round out where we are in terms of our resilient offering. Then, looking at what '24 looks like, we haven't made those decisions yet. 

Floor Trends: Recently, the Bureau of Labor Statistics reported that the hospitality market is bouncing back with 84,000 jobs added in the month of May. What is your prediction for this segment over the next few months? 
Brown: We are getting more opportunities to bid. I wouldn't say we've seen a huge uptick in that market for us in terms of sales or revenue, but there is more activity out there now and more requests for information, so you are probably correct that it is on the rebound. 

Floor Trends: In your new role, what do you see for yourself and for the business over the next five years? 
Brown: I think for us it's just the continued growth of our business. We see all the headwinds that people are predicting about the economy and where we're going. You can get an opinion both ways on that. Right now, we are still bullish about it. We have a great order book and orders continue to be strong. 
From Bentley's perspective, the five-year plan is to continue to grow the business and add the capacity that we need to be able to support that. We have a great team, a very cohesive team. We continue to focus on the customer; that's the number one thing for us. When we look at what we do and who Bentley Mills is, we're known for high design, high quality and high service.