Nick Bock and his wife Erin are the founders of the private equity firm 31st Street Capital, a firm based in Lincoln, Nebrasa, that focuses on retail flooring companies. We had an opportunity to sit down with Nick recently to talk about the organization's history, its approach, and its plans for the future. Following are excerpts of our conversation which you can listen to in its entirety below.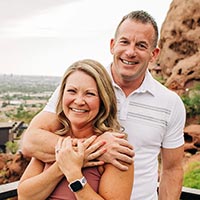 TalkFloor: 31st Street Capital has acquired four retail flooring operations: Flooring Expo in the Minneapolis area, with 11 showroom locations and two trade-direct showrooms; Floors For Living of Houston, Texas with 23 locations; Floor Source in Phoenix, Arizona, with two locations and Total Flooring of Homer Glen, Illinois, a suburb just outside of Chicago. Have I left anyone out?
Bock: No, but we do have a fifth, under letter of intent. We don't anticipate closing that until August or September. 

TF: When you formed 31st Street, did you have your eyes on acquisitions in the retail flooring industry? 
Bock: If somebody would have asked me when my wife and I started this where we would end up, or to list the top 50 types of companies we thought we'd acquire, I don't know that flooring companies would have even been in that list. 
What we did have is a pretty specific set of criteria we were looking for. We wanted companies that had a lot of customers, not just four or five large ones. We wanted companies where there was a good leadership team, and we wanted companies in an industry that Amazon could not get to easily. We looked at hundreds of companies, and after about four or five months we found and fell in love with Floor Source in Phoenix. They had a great business and a great team, so we did that acquisition and all of a sudden, we had a flooring company. 

TF: Would it be fair to say installation played a major role? 
Bock: That's right. I love the fact that full-service flooring, to be honest, is a little messy; it's difficult, it's operational, and it keeps out a lot of the big national companies. One of the largest competitors— Floor and Décor, for example— won't touch installation. I think flooring retailers have a great space, which will be great for a long time.

TF: So, when you launched 31st Street, flooring was not even on your checklist?
Bock: I show people my hands and say these hands are good at one thing and that's typing. We didn't want to get into day-to-day operations. One of the most important things we look for in companies is a really solid leadership team. We really just start at a high level and coach and work with company teams and help them set a plan. Great leadership teams love one thing: autonomy. They love being able to figure out where we're going and how they're going to get there. Many times, one of the most important things we do is, when we buy the company, we don't go in and try and tell them how to run it. We let them set the plan for how we are going to continue to grow the company. And they do an excellent job at it.

TF: Do the owners of the companies you acquire, as a general rule, stay on?
Bock: Of the four companies we have acquired so far, all four have exited. We currently have a fifth acquisition pending where the owner plans to stay. Quite honestly, I think he will be a great fit for us.

TF: I understand there are a couple of other private equity firms out there concentrating on flooring. Are they pretty much of the same mind you are, and are you getting in each other's hair?
Bock: Let me first answer the part about being a private equity firm. Technically, we refer to ourselves as a private equity group, but this company will be just my wife and myself and our money. We are the only investors that we have to make happy, so we feel that gives us a big competitive advantage because we don't need to try and figure out how to roll this up and sell it in three years. You know we can take the long approach and we love this industry long-term.
There are several other companies making acquisitions of flooring companies.
One is ADG. They, however, are not that focused on retail floor companies. They instead focus on commercial and that is most of what they buy. We have never run into a deal where we were competing with another private equity company. Most floor covering companies that are for sale aren't quite big enough for private equities to get excited about. I'm surprised that there isn't more interest, but that puts us in a good position to be able to continue to find great fits.

TF: I'm not surprised that there are many retail players in this industry that are anxious to sell. The question is, are they saleable?
Bock: Yes. I think that is a tough challenge right now. We feel that if a retailer has a $2 million, single-store operation and has been in the same place for a very long time it is going to be hard for them to. They could probably sell for a couple hundred thousand dollars to one of their salespeople or the general manager. There are not a ton of large, multi-location companies that have established enough value that they could go to market and have somebody buy them for $3, $4 or $5 million.

TF: I understand you have been doing this for three years?
Bock: That's right. We bought our first company on April 1 of 2019, and it wasn't an April fool's joke. We have been at this for a little over three years.

TF: I suspect you have a most interesting view of the retail floor cover industry at this point, after looking at several companies. Talk about that view.
Bock: I have probably seen more information about flooring companies than your average person and those last three years have certainly been an interesting time period where we have had so much tailwind in the industry. But we are not always going to be in this COVID bump, and not all flooring companies had a COVID bump. Basically, you know you are okay when there are great tailwinds and we're okay when there's some headwinds as well. Sometimes headwinds are valuable because they make you refocus on the things that are most important. 

TF: Talk about your long-term plans.
Bock: Our long-term goals are to continue to do one acquisition per year. We love the floor covering industry, so at this point, we are focused on that industry. We have a big, audacious goal for where we want to be by 2030, and we'll get there by doing one floor covering acquisition per year, working with our existing teams to help them grow. Our goal is to continue to find great fits and do those acquisitions, working with the operation's leadership teams to ultimately make every company in every market be the best floor covering operation in their particular market. 

TF: Would it be fair to say that your plan is to be involved at some level with the management teams of each company you own? 
Bock: Yes, each of our companies operates in their own unique way. We have a 13-location company, Flooring Expo in Minneapolis, and they operate very differently than our 23-location retail flooring company in Houston. Both are very successful, and we don't spend too much time getting down in the weeds about how exactly they run the business. 
We set a plan with each company on what success looks like, and their job is to go out and accomplish it. I always jokingly say they have forgotten more about flooring than I know, so I can't tell them how to run the company. I can just help you set great goals. And our team works hard to help them accomplish those goals. 

TF: Talk about the teams that work with each of the companies you own and your views on marketing and the use of software. 
Bock: We have a team that works with each of our portfolio companies, two people are on the marketing team. The president of 31st works with each of the portfolio company's general managers. We have a training and development leader, and our CFO works with the controllers at each of those companies. Basically, we help them be great at what they do. 

TF: Collectively, you have become a sizeable buyer of flooring products, gaining clout with suppliers. Talk about this aspect of the business. 
Bock: We're starting to figure that out. Our revenue run rate across all of our companies this year will be somewhere close to $90 to $100 million. Our vendor partners are very important to us, so it's not just about putting the screws to them to get the most we can all the time. It has to work for them, too. We're in for the long term and will continue to focus to work closely with our vendor partners that are aggressive in pricing and help us drive gross margin while delivering great products to our customers. 

TF: Do you see at some point in the future these operations operating under a single name or perhaps a group of names? 
Bock: I try not to say never, but each of our companies has a strong brand in their market and losing that brand would be costly. Again, if our goal was to take this whole thing, wrap it up and sell it to somebody, then it might be a smart move, but that isn't our plan right now. Each of our companies has a great brand in their market and we don't really want to disrupt that. Our plans right now are for them to continue to build in each of their markets with the brand that they have established. 

TF: In terms of geography, what are your plans? Do you see ultimately being in most of many major markets?
Bock: Many is absolutely right. When we look at a market, it really needs to be a top 40 or 50 market for us to get excited. Our objective is to be in, quite honestly, every major market with the exception of California. We really don't have any interest in being in California because of some of the regulations and some of their tax issues, but quite honestly, we would love to have a presence every other major market. 

TF: Flooring retailers are one of the few retail groups that have a liability when they make a sale. I would think that fact would make the sector look relatively unattractive to many.
Bock: That's probably part of why the sector is less attractive to a lot of private equity firms. We love the sector because it's very fragmented and has been slow to embrace things like digital marketing. There are real advantages when you get size and brand recognition, and so it's our goal to find companies that have already achieved a level of brand recognition and certain size and in turn help build on the stability they already accomplished. Quite honestly, we don't worry a ton about liability. Again, most of the time we're trying to buy a company that's already one of the best—if not the best—in their market. And those companies tend to have very few warranty-type issues that come up after the sale where it's a significant dollar amount. 

TF: What at are your expectations as to what the floor covering industry will look like in the future? 
Bock: I'll be surprised to see if Home Depot, Lowe's, will continue to take market share from independent retailers. Also, I think independent retailers are starting to figure out some of the right strategies to combat that. 
Floor and Décor runs a great business, and I have no doubt they'll continue to be successful, but again, their target customer, in many cases, is a great deal different than a full-service retail customer who wants somebody to sell and install their product. In those segments, if you are product only, then I think that industry will continue to evolve and change at a significant pace. That's really hard to keep up with and beat. I think the beautiful part of business is full service.
Customers that buy cash and carry really don't know how to install. They don't know how to do transitions. They don't know how to figure out and manage a lot of details that can get really complicated—not to mention things like moisture. I think the retailers that are focused on full service have a really strong future in front of them because literally one of the few things that could disrupt them is a magical product that assembles and installs itself in somebody's home. And I think we're a long way away from that.
Listen to the full interview!