Each year the Starnet members are involved in some of the most prestigious projects across North America. The incredible range of budgets, end use segments, and materials the members must support is mind bending. 
In their prolific service to the built environment, they respond to and enable the latest trends for interior design. The last decade has revealed an interesting return to "authentic materials" for commercial interiors such as wood, terrazzo, linoleum, stone, glass mosaic, and wool carpet. Certain end-use segments find these timeless materials appealing for their associates and clients. The architectural and design community has taken advantage of the enthusiasm and availability of more generous budgets to increase the use of these traditional flooring materials. Segments such as corporate, hospitality, college and university, senior living, and multifamily have all seen the impact of this trend. One of the biggest category beneficiaries of this momentum in authentic traditional flooring materials in commercial spaces is the hardwood flooring category. 

History 
At the beginning of the last century in the United States, hardwood flooring dominated every building from warehouses to main street retail shops and nearly every public school in the country. Labor was inexpensive and abundant, lumber was inexpensive and readily available, and most buildings rarely stretched beyond a few stories in height. A series of major commercial building trends such as the prolific use of concrete and steel beam construction, skyscraper building designs, elevators, and the massive increases in cost for skilled labor and lumber opened the window for alternative materials. Over the years products such as asphalt tile, linoleum, carpeting, polished concrete, and various versions of vinyl flooring overtook the ubiquitous use of hardwood flooring in the commercial interior. 
Today engineered hardwood flooring is increasingly appropriate for use in commercial interiors, due to a variety of factors. The performance of the products has improved to become more compatible with modern construction techniques and a series of enabling building trends have activated momentum in hardwood for commercial spaces.
Nobu Hotel Caesars Palace
✕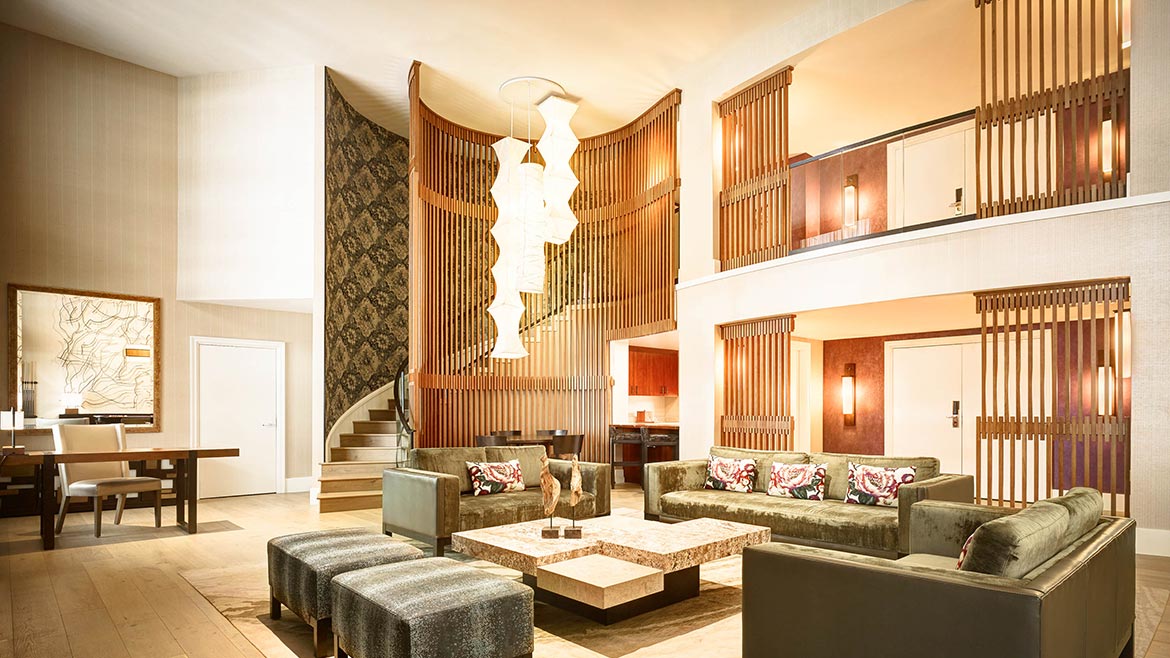 Starnet Design Awards project entry Nobu Caesars Palace completed by Master Craft Floors in partnership with Bostik, Hallmark Floors, Mapei, Schönox, Uzin.
Photo: Master Craft Floors.
✕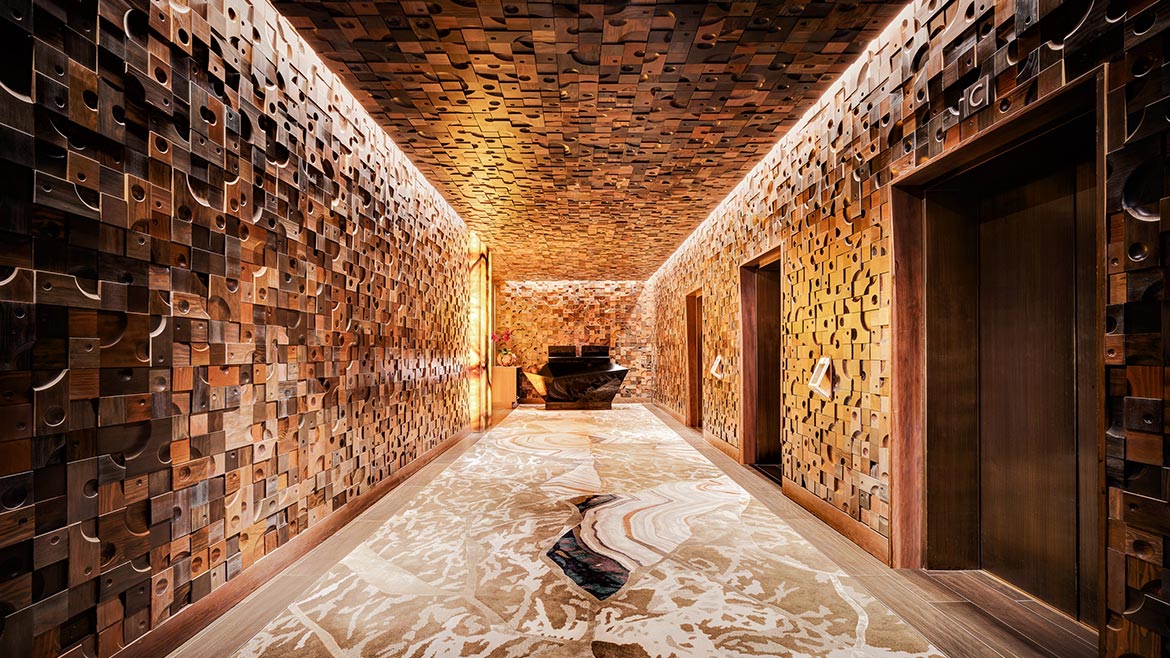 The Nobu Caesars Palace in Las Vegas received a multimillion-dollar update that boasts a more modern, residential ambiance with design inspiration from kintsugi, the Japanese art of repairing broken pottery with gold epoxy.
Photo: Master Craft Floors.
✕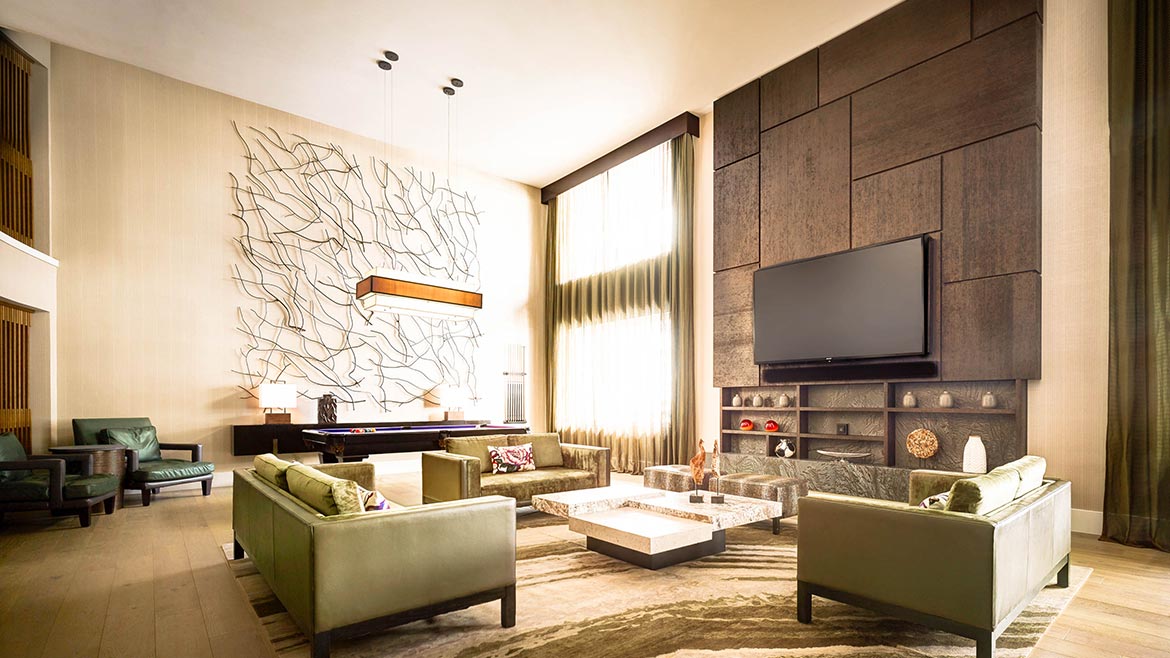 Starnet Design Awards project entry Nobu Caesars Palace completed by Master Craft Floors in partnership with Bostik, Hallmark Floors, Mapei, Schönox, Uzin.
Photo: Master Craft Floors.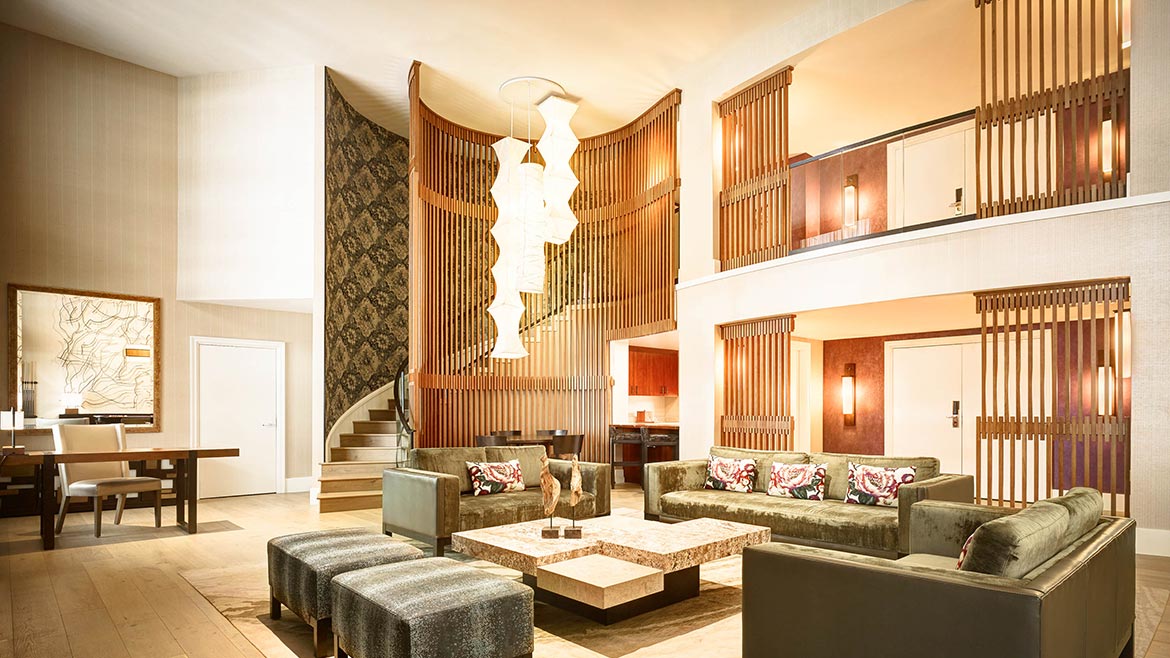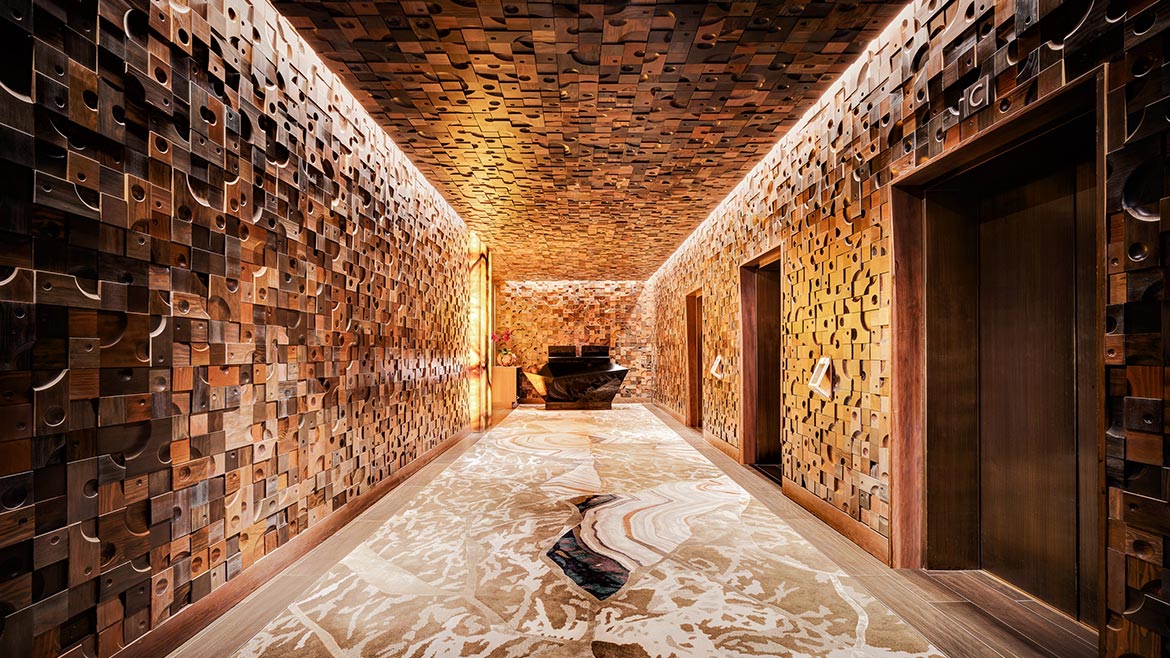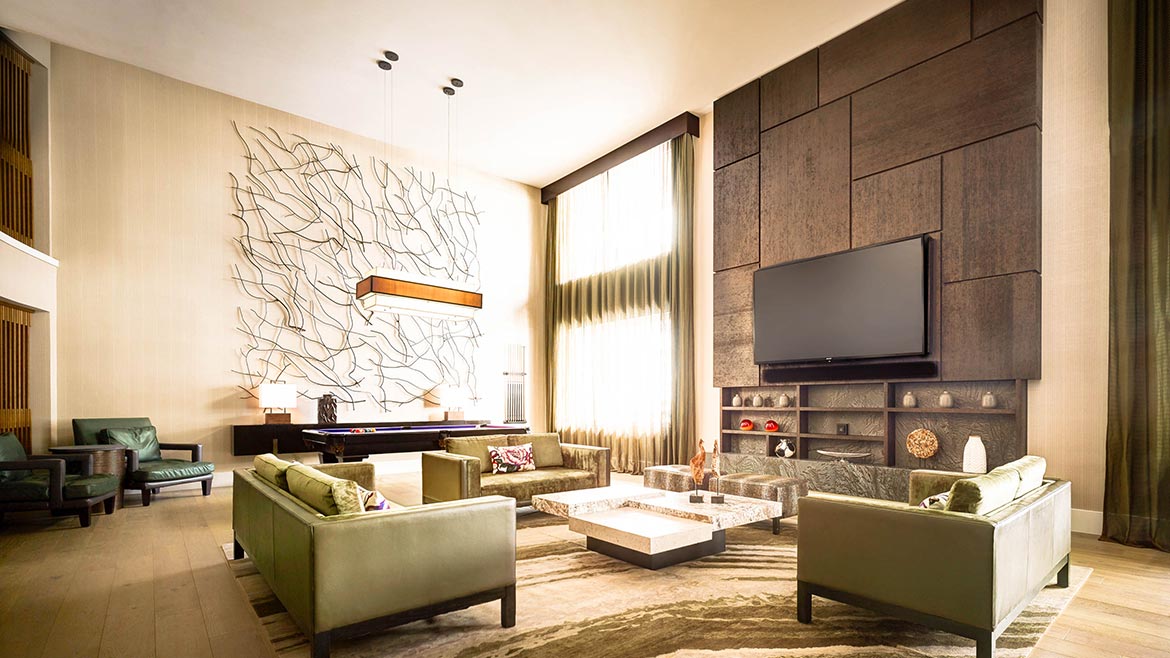 Click to view project details

Product Improvements 
Wood flooring is unstable as a natural material, it will expand and contract as it gains and loses moisture or with swings in temperature. Most of the commercial applications utilize engineered hardwood as the product of choice. Engineered flooring marries the proven performance of plywood technology with the beauty of a hardwood show surface. It is a much more efficient and sustainable way to use hardwood in a greater variety of commercial interiors. The wear surface is equivalent to the traditional solid wood installations of the last century, but with major performance benefits and compatibility with modern construction techniques. Engineered formats also provide installation flexibility that includes glue down, nail down, and floating execution to match the needs of the schedule, the space, and the site conditions. 
Throughout the commercial flooring industry, we have seen dramatic improvements in factory-applied coatings that perform well in commercial environments. UV-cured protective finishes enhanced with aluminum oxide and the latest nanotechnology from the coatings industry have made the engineered wood floors easier to manage for facility teams. Limited wear warranties from the manufacturers on engineered wood floors for commercial interiors are competitive with VCT, sheet vinyl and LVT resilient flooring warranties.
Other product improvements include the precision grading, milling, laminating, coating, and packaging of engineered hardwood products that enhance the consistency and productivity needed to satisfy the demands of a high-volume commercial installation field team. Many of the products available are so consistent that they enable a factory-like assembly production effort in the field. This is vital to remain competitive as a manufacturer supplier to the professional commercial flooring contractor of scale.   
Pacific Point Condominiums in Semiahmoo, Washington
✕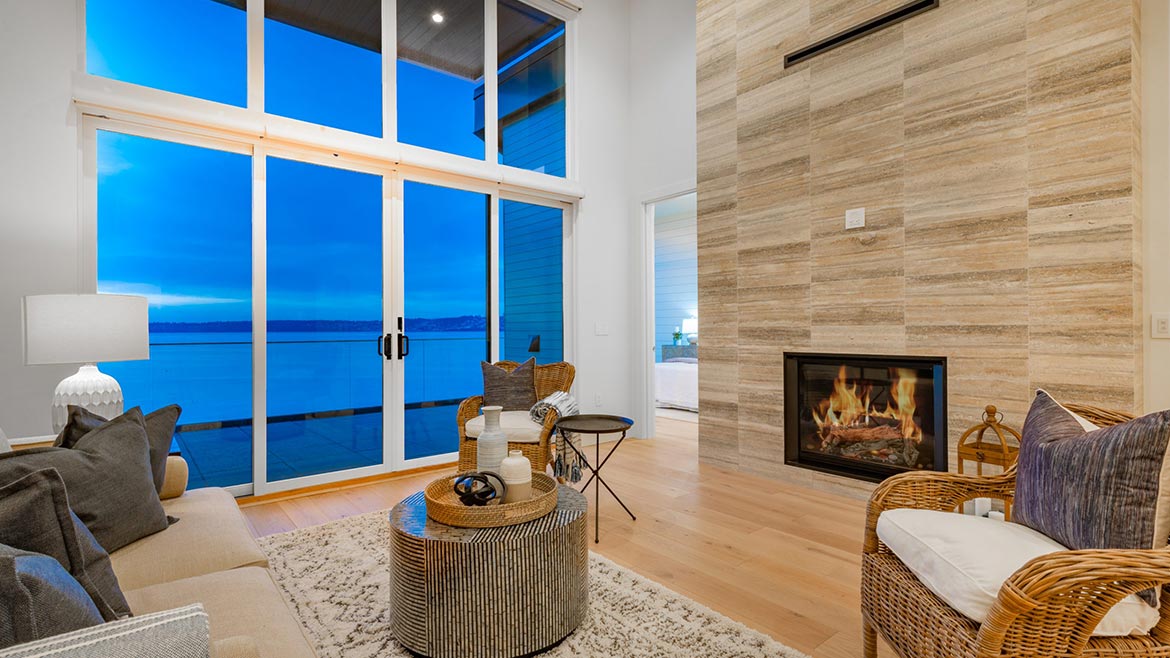 Starnet Design Awards project entry Pacific Point Condominiums completed by Great Floors, an ADG Company in partnership with American Olean, Hallmark Floors and Mapei.
Photo: Great Floors.
✕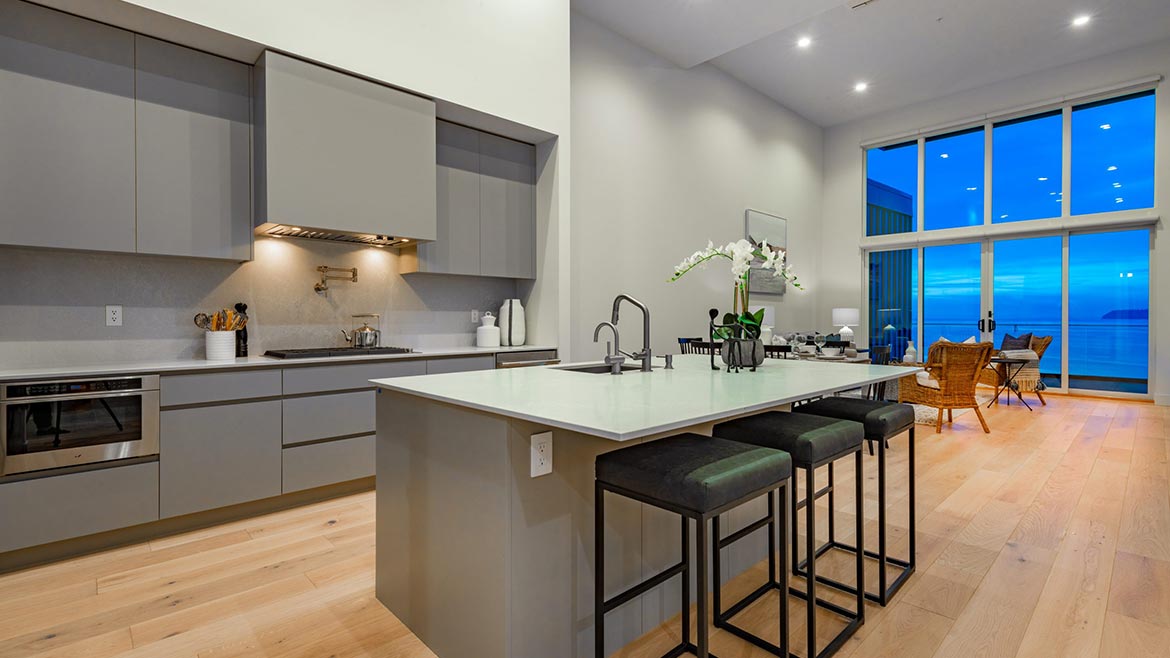 Hallmark Floors' commercially rated Alta Vista Collection in Laguna Oak is featured throughout the Pacific Point Condominiums of Semiahmoo, Washington.
Photo: Great Floors.
✕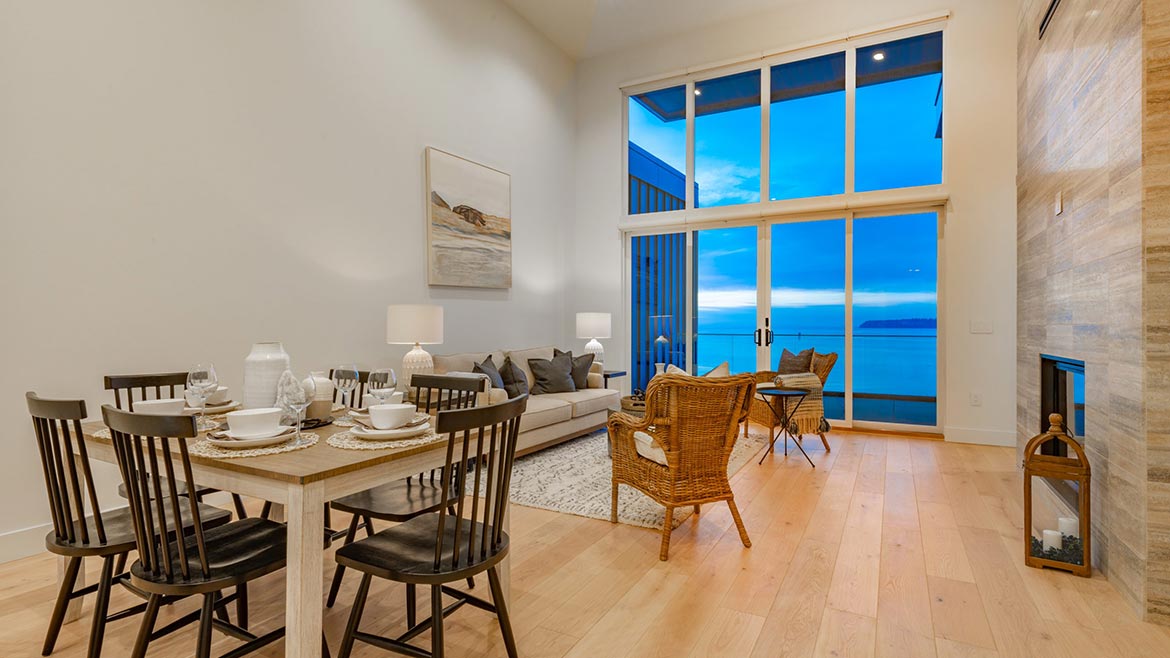 This 26,000-sq.-ft. project was ordered through Intermountain Wood Products, a distributor in Salt Lake City, Utah.
Photo: Great Floors.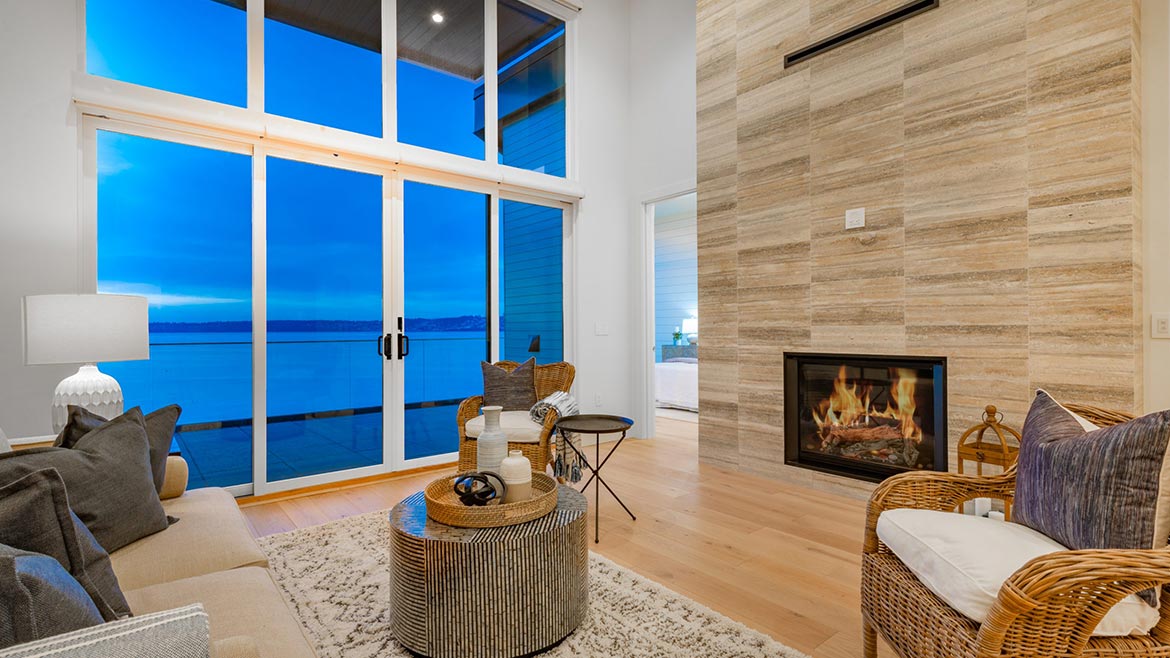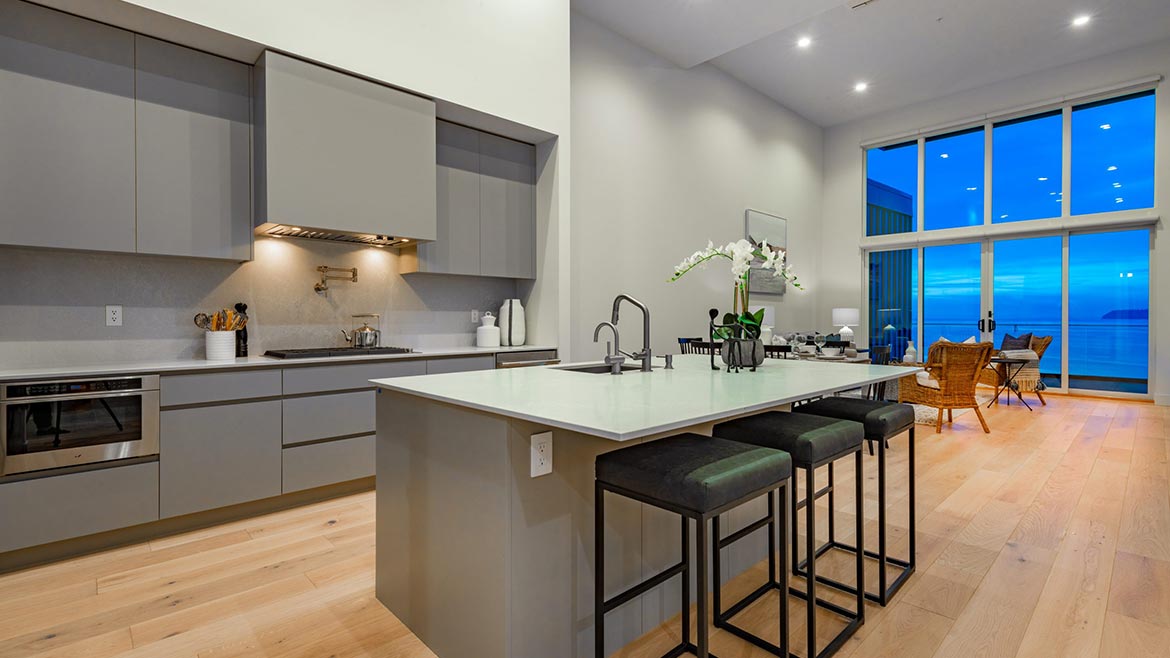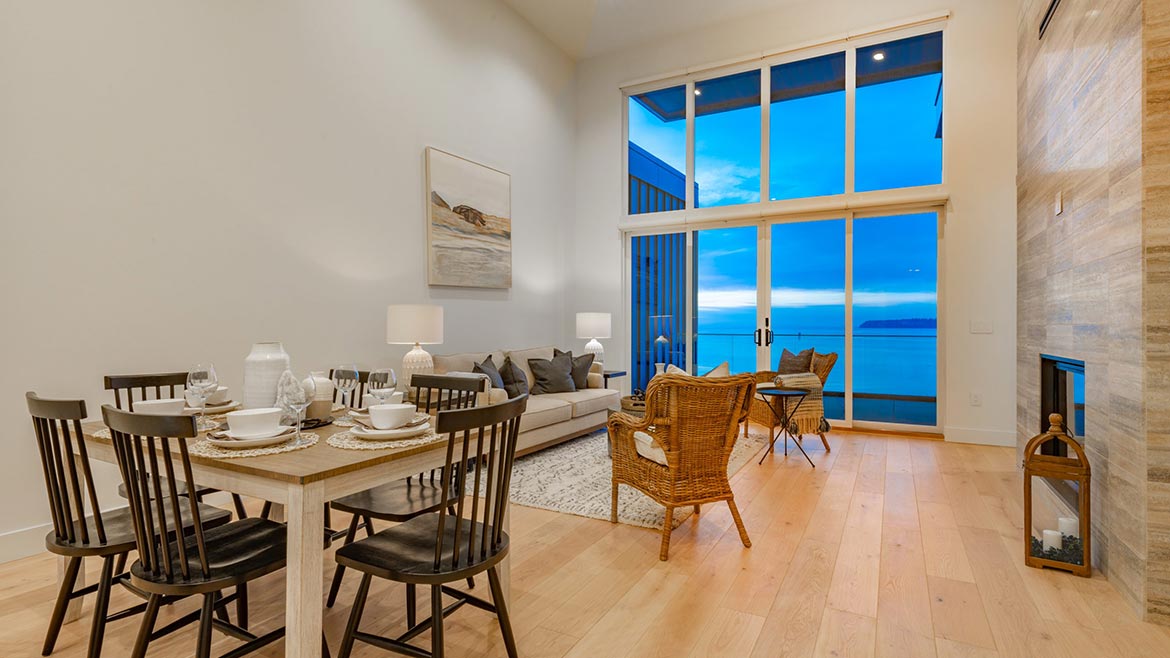 Click to view project details

Installation Technology Improvements 
Modern manufacturing techniques utilize sustainably sourced certified hardwood veneers, earth-friendly adhesive technology, cold pressure, and hot pressure to produce incredibly dense and stable board panels. These products are then installed over commercial concrete slabs with performance urethane adhesive technology that includes a moisture control membrane. This installation method cures to a tough and flexible bond. The elastomeric characteristics of this system allow the adhesive to move with the wood as it expands and contracts over the life of the floor.  
This is vital to balance the wood changes with the movement that most modern buildings go through in a season. The use of exterior wall glass and combinations of steel and concrete structural elements create dramatic movement in buildings over time. Modern wood flooring installation techniques can accommodate all this seasonality. The use of engineered polymer or rubber underlayments and glue down installation techniques provide additional options for commercial contractors. These systems allow movement independent of the slab to prevent buckling. They can also be combined to meet strict sound transmission standards that are often specified in multi-family, senior living, and student housing projects. Today's wood flooring products are less sensitive to commercial site conditions and acclimation because of these improved technologies.

Design Trends and Demand for Authenticity 
As generational changes occur, society often completely resets their position on common experiences, and wood flooring for commercial interiors is no different. Generations ago wood flooring was a commodity and as invisible as VCT in a modern large-format retail store. VCT does not get much attention unless it is physically damaged or if it has been improperly maintained by unqualified janitorial services. The expectation was each tile resembled the next and very little variation in design was tolerated by facility professionals.
Today old wood floors, abused through time, are treasured, and celebrated for their authenticity. Another technique the manufacturers are using involves applying heat or other atmospheric techniques to alter the color of the engineered wood without the use of traditional staining chemistry. These techniques enhance the beautiful colors and contrast of hardwood floors without staining the planks. This means no two planks are identical, which is completely counter to the overwhelming repetition of wood patterns in commercial LVT which may be used in similar applications.
Today old wood floors, abused through time, are treasured, and celebrated for their authenticity.
Scratches, dents, dings, and uneven planks are genuinely appreciated as positive qualities. Amazingly, the manufacturers are attempting to produce brand new engineered products that emulate the checking, tooling, wear, and character in a "new" floor. They are also amplifying the random patterns of wood grain and knots in manufacturing by marketing the appeal of endlessly random biophilic design.
Starnet members have found there is a demand in commercial projects for authentic materials such as hardwood across multiple end-use segments. Manufacturers are deploying new technologies and equipment to enable more distinct and bespoke styling after a few decades of homogenized looks.
The Starnet Preferred Vendors have responded with solutions that are practical for modern construction methods and timelines.
In addition, complementary adhesive technology and accessories enable greater opportunities for successful outcomes in commercial projects. Practical sustainability considerations in many states will focus stakeholders on materials that are trusted and easy to understand. Engineered wood flooring could continue momentum as a preferred choice.