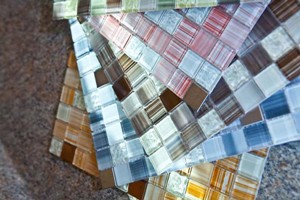 DIY Network offers glass backsplash-in-a-box With colorful glass mosaics being the material of choice for today's kitchen backsplashes, savvy retailers now have the option to offer the DIY Backsplash Kit from Surfaces Southeast, Inc. Endorsed and licensed by television's DIY Network. The kit offers virtually anyone the opportunity to install a new 15 square foot backsplash in roughly two hours. It also offers the opportunity for floor covering dealers and building supply retailers to stock a versatile product.
State-of-the-art "peel & stick" technology specifically formulated for glass mosaics, makes affixing each mesh-mounted mosaic tile section extremely easy, and, this process eliminates the messiness of having to apply adhesive directly to one's wall. Additionally, each kit comes with pre-mixed, ready-to-use grout, extra "loose" mosaics and glass trim pieces.
"In addition to the tile material enclosed (which is offered in numerous designer colors), we include a utility knife, grout float, spacers, sponge and gloves," stated J. Young, CEO of Surfaces, Inc.
DIY'ers have no adhesive or no untidy powders to mix. They simply have to peel the protective film from the back of the glass, stick the mosaic onto the wall, grout, clean and then enjoy their new backsplash. The entire process may be viewed by clicking on this link from the DIY Network: www.diynetwork.com
"We wanted to offer the marketplace a beautiful alternative to costly backsplash installations. We believe we have done so with our glass mosaic DIY kit." noted Young.