When I previously wrote about wood flooring in "passing the test of time," I did not take antique heart pine flooring into the equation. This unique and rare historical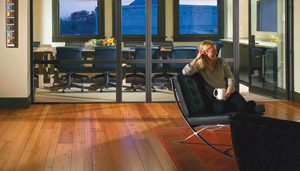 Photos courtesy of Goodwin Heart Pine Flooring
product takes the adage to an entirely different level.
The historical significance of this product is unto itself an endearing chapter in American history. Heart pine's natural beauty in an architecturally designed construction product is in a class by itself.

So what's the big deal?

Aside from its natural aesthetic beauty, antique heart pine floors are not made from freshly harvested trees. The pine logs have been either lying in river bottoms for over 100 years, or its been reclaimed from timbers used to support industrial buildings, warehouses, and textile mills that paved the way for some of America's greatest manufacturing achievements.

Whether river recovered or reclaimed, when sawn, longleaf pine planks are as beautiful today as they would have been when harvested and sawn in either the mid to late 19th or early 20th Centuries.

Having played an important role in early American construction, longleaf pine flooring found its way into taverns, hotels, mercantile stores and log homes dating back to the American Revolution. For decades it was considered a decorator product preferred for its warmth, beauty and charm by architects, builders and contractors, and especially homeowners.

Many owners of buildings and residences up and down the eastern seaboard have made an extra effort to painstakingly preserve the ageless beauty of these floors. And they really seem to last and last ….for more than a lifetime.

Indigenous to the southeastern coastal U.S., longleaf heart pine features a variety of grain patterns and red tone colors ranging from light rose to deep burgundy. This is especially apparent in the heart centers of the timber. The hardness of antique heart pine is comparable to that of red or white oak.

With today's emphasis on green building, antique heart pine wood flooring is perhaps the purest form of protecting our ecosystem and saving our environment.

Every board has been reclaimed from either prior use as large support timbers or pristine logs salvaged from a sandy river bottom in the where is has been preserved by nature; just waiting to be rediscovered.

There are also manufacturing advantages to making wood flooring from reclaimed and river recovered logs. The reclaimed timbers have to only go through a metal detection process prior to being sawn into boards. There is no need to expend time and money into the arduous task of air-drying or kiln drying the sawn boards. This saves a lot of time and cost in the manufacturing process from rough lumber to finished flooring.

The river-recovered logs can go directly to the sawmill and the flooring mill, where they can then be sawn and then immediately milled into flooring; respectively. Very productive, indeed!

Most of the river recovered logs and reclaimed timbers are original growth or "virgin timber." The warm climate and mild seasons in the Sandhills region created an ideal environment for fast growth of the longleaf pines. They grew straight and tall, yielding a large percentage of long length lumber. The flooring can be milled in lengths up to 12 feet and widths up to 9 inches.

Historically, heart pine flooring was only milled into solid wood flooring; with today's technology, engineered antique heart pine flooring is now available for the right environment or application.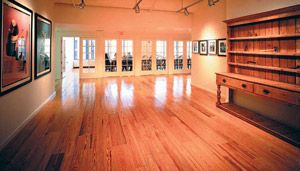 When installed it is aesthetically indistinguishable from solid plank flooring. The engineered style opens up a much larger market opportunity for this very desirable wood flooring specie. The engineered version adds considerable dimensional stability such that it can be glued, stapled or even "floated" over the sub floor. This makes it ideal to install on concrete slabs or over radiant heat flooring.

Additionally, it's the right choice in remodeling for townhouses or similar settings with pre-installed cabinetry and trim. Engineered heart pine flooring is especially recommended where crowning or cupping may occur in solid flooring due to expected changes in temperature, humidity, or moisture (from crawl spaces, etc.).
From year one, heart pine wood floors were only available unfinished, thus requiring job-site sanding and finishing. Today's precise milling capabilities coupled with modern factory controlled finishing processes makes this product an ideal candidate for pre-finishing. Many manufacturers offer antique heart pine flooring factory-finished in a carton, ready for quick and easy installation. It has a slightly eased edge to allow for variances or unevenness in subfloors. The longer boards make for a very attractive installation and recreate the authentic look of the timeless planks that were installed so many years ago.

For the architect, designer or discerning homeowner, there are a good number of styles from which to choose based on the grade and color. There are classic faces with little or no knots to the more vintage look with sound knots up to 2-1/2". Flooring milled into vertical grain planks is usually made from 100% heartwood, and has a vibrant color ranging from copper to burgundy tones. They can also choose from an arching grain pattern with vertical pinstripes on the edges that have a deeper sort of cherry tone color, resulting in no need for staining.

For the warm look of real old-time charm, choose heart pine planks milled from reclaimed warehouse beams that were actually nailed in place. The frequent nail pattern indicates that the carpenter at that early time chose this material for its beautiful face. These boards usually have larger and more frequent knots to add even more character to the wood flooring. The color has red tones with slight yellow sap streaks to create that comfortable warm coziness of yesteryear.

To complete the installation, most manufacturers offer matching trim, transitions strips, and accessories milled from the same heart pine logs. To create a special look of historical charm and warmth, and have the added benefit of being kind to our environment, there's no better choice than selecting antique heart pine flooring.