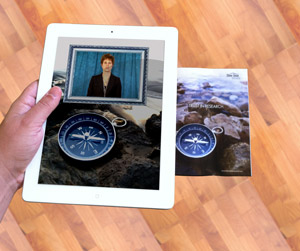 floor trends is more than just another pretty face: we've remade ourselves from top to bottom, and that includes incorporating the latest technology to deliver the information you're looking for in the smartest, most entertaining ways possible.

Introducing floor trends+ powered by Aurasma.

floor trends+ is an augmented reality platform that merges the physical world with the virtual. Available as a free app for iPhones, iPads and-Android devices, floor trends+ uses advanced image and pattern recognition to recognize and understand real-world images and objects in much the same way as the human brain does.

It then seamlessly blends the real-world with rich interactive content such as videos and animations.

The floor trends+ app is free for users to download.

This state of the art image recognition software enables it to actually see and understand images and objects in the real world.

Take it for a test drive. Just look for the + symbol throughout this and future issues of floor trends. A whole new world's just a quick click away.