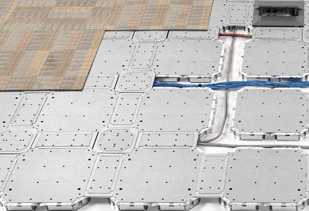 FreeAxez is an award-winning, all steel, quick-connect, low-profile access floor that breaks the mold of the traditional post and panel raised access floor. FreeAxez provides unparalleled capacity and flexibility for the modern office and high technology environment, saving life cycle costs and improving workplace efficiency.
The FreeAxez flooring system offers effortless wire management. Moves, adds, and changes can easily be performed by in-house personnel, without the need for special tools. FreeAxez eliminates the need to run power, voice and data cables through the ceilings and down power poles. It also makes it unnecessary to acquire integrated wire management from the systems furniture manufacturer. FreeAxez does not attach to the structure, and can be depreciable as equipment.
Applications: 
FreeAxez is designed for the general office environment, not just for data centers or computer rooms; it is intended to be installed under every desk. FreeAxez is ideal for the distribution of power, voice, and data cables for new construction as well as retrofit. Installed worldwide for a diverse set of applications such as commercial offices, training rooms, conference rooms, universities, laboratories, classrooms, courtrooms, libraries, museums, emergency operations/911, casinos, warehouse conversions, hospitals, medical facilities, and more.
Features:
ALL STEEL:Double 16-gauge zinc galvanized steel. High durability and high strength.
QUICK CONNECT: Components snap together - no glue, screws or fasteners.
LOW PROFILE: Available in 2 models - 1.60 or 2.75 inches high.
HIGH CAPACITY: Large cable capacity with organized channels for cable runs.
Benefits:
·                     Installs 1000 square feet per installer per day.
·                     Feel is solid, not bouncy like traditional pedestal raised floors.
·                     Least disruptive to existing surfaces; saves vertical space and real-estate.
·                     Removes the cost for electrified furniture systems.
·                     Eliminates power poles, and saves in moves, adds and changes.
·                     Eliminates concrete cutting and drilling.
·                     Depreciable in 7 years - immediate return on investment (ROI).
·                     No railings or edges needed for ramps.
·                     No concrete, filler, wood or plastic.
·                     GreenSpec Listed, LEED credits, reusable, recyclable, refundable.
·                     Made in USA
For more information go to www.freeaxez.com.