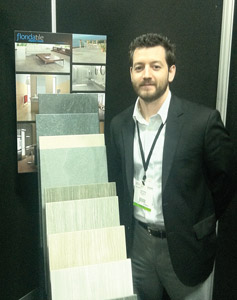 Florida Tile Marketing Director Sean Cilona
While at Surfaces 2013, Florida Tile Marketing Director Sean Cilona laid out some of the challenges and opportunities faced by domestic tile manufacturers, and where the company sees itself headedin the future.
Looking Back
Historically, Florida Tile was a strong, residentially focused manufacturer. With the purchase by Panariagroup in 2006, we were able to update the manufacturing process and diversify our product categories. Over the past few years, with the decline in the housing market, we were able to open up our product line toward more commercial products.
We did a large rebranding, updated our logo, our merchandising, the overall look of Florida Tile out in the market, and combined with a lot of new products, both commercial and residential, that's helped us grow market share even as other manufacturers and the category has declined. So overall it's been very positive for us the past few years.
Looking Ahead
I think in 2013 we're going to continue to see growth, growth in the remodeling market and the commercial market. Along with that I think we'll see modest growth in the residential construction, new construction. I think everyone is kind of looking for that, and maybe not right away, but toward the end of the year, maybe 2014…I think consumer confidence is growing, and again, the remodeling market is still strong, and a lot of times those products cross over.
Product Spotlight
We actually have a lot in the pipeline. That's been a big part of our success: continued product development. We're getting rid of some older products, we're turning those over, and we're making room for a lot of new products. Last year I think we launched six new lines, and this year it'll be seven or eight.
For example, "Tides" is an interpretation of a travertine look; it's a vein-cut travertine, but we're doing it in non-traditional colors so it has a soft, traditional look to the graphic, but the colors make it contemporary. We wanted to pick a format that we knew would be successful, so we limited the format and expanded the color palette; I think it will be a great commercial product for us.
What to Know
Florida Tile has been around since 1954. We're one of the largest domestic manufacturers of porcelain tile, and we also distribute natural stone, glass, metal, decorative pieces, etc.; we're a full-service manufacturer. Our dealer network is serviced both by our distributors and by 19 Florida Tile-owned stores that act like distributors in areas without distribution.
Service, quality and design. We take the most-advanced technology of Europe and use it to manufacture, in the U.S., products that are only for the domestic market. There are a lot of challenges that come with being a domestic manufacturer, and that message is important.