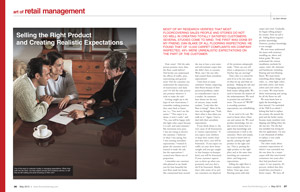 I really enjoyed your article about selling the right product and creating realistic expectations. It is a challenge as a storeowner and salesperson that we tackle every day. However, your article failed to mention one of the greatest challenges we face as retailers and salespeople, and that challenge comes from within our own industry.
Manufacturers are a major culprit in creating unrealistic expectations with the warranties and promotions they create for their products. Lifetime stain warranties, 20-year wear warranties, 25-year texture retention warranties and 20-year soil warranties, along with warranties that cover pet urine, warranties that cover stairs, lifetime finish warranties on hardwood, and moisture warranties… just to name a few.
Manufacturers spend millions on outdoing each other on crazy warranties and promotions. Part of my sales process is explaining the fine print in every warranty. I spend precious time trying to explain what the manufacturers deem as "wear," time explaining who determines "texture retention," etc. I am a salesperson, selling for the manufacturers so they can make money, and I am put in a terrible position because the very companies I am selling for are creating unrealistic expectations.
Read a basic carpet warranty, pretending you are a consumer who buys carpet every seven years. Does it make sense to you? Nowread that card as a salesperson of floor covering. Does it make sense? And should it be the salesperson's responsibility to set the record straight on fine-print warranties that the manufacturers create? Every day we are the ones with our reputations on the line. We are the ones that the consumer looks to, to take care of their problems or unmet expectations. As a retailer I am left standing here trying to back a warranty that I did not even create, let alone promote.
Our job is to sell flooring, recommending the right product for the right situation, and create satisfied customers by helping them choose a product that meets their expectations. Manufacturers need to create realistic expectations with warranties that are valid and apply to today's consumer. They need to be honest on what consumers can expect from their products. They need to spend millions on informing consumers on how to maintaintheir flooring.
As a storeowner and salesperson I put on my flooring salesperson truth belt, and I arm myself with product knowledge and experience to find my customer the right product for her situation. Not only do I battle other local retailers, online retailers, big box stores, and rogue distributors; I battle the very manufacturers I sell product for.
Jon Dauenhauer
Carpet World Bismark
Bismark, ND
Do you have something to say? Sound off to ChmieleckiM@bnpmedia.com or by visiting our Floor Trends LinkedIn page. Access it by clicking the LinkedIn button at the bottom of www.floortrendsmag.com.
Editor's Note: The following letter was written in response to Sam Allman's story "Selling the Right Product and Creating Realistic Expectations" in the May 2013 issue. Some edits were made for space.