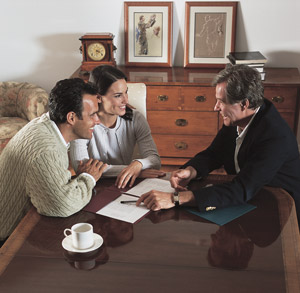 One of the keys to customer loyalty is managing expectations. When they walk into the store, can they expect prompt and courteous service, or will they be left waiting and stuck browsing on their own?
Most of my research verifies that most floorcovering sales people and stores do not do well in creating totally satisfied customers. Several studies come to mind. The first was done by my friend, Dan Blake of All Flooring Inspections. He found that of 10,000 carpet complaints his company inspected, 49% were unrealistic expectations on the part of the customer.
How come?  Did the sales person promise more than the floor could deliver? Did he/she not understand the effects of traffic, pets, entertaining and general wear? Did the customer not understand the importance of maintenance and daily care? Or did the sales person just promise whatever it took to make the sale?
Getting caught up in the hype of new innovations, I remember making promises that came back to haunt me, i.e., "You won't see the seams," "This carpet is so dense, it won't crush," and "Yes, you will be happy with this light color carpet because it is soil- and stain-resistant." My intentions were pure. I was not trying to deceive the customer. I believed in what I was saying, but I was creating unrealistic expectations. I wanted to please the customer and I wanted to make the sale, but the expectations I created were blown out of proportion. 
I remember one customer who phoned to say thank you for how beautiful the new floor made her home. She commented how excited she was to have a new stain- and soil-resistant carpet that she didn't have to vacuum. Wow, was I the one who had created those unrealistic expectations? 
I have been in many customers' homes, inspecting their floors because of their perceived problems, either as a manufacturer's rep or a retailer. As customers have shown me the area of concern, many would exclaim, "Look what this floor is doing!"  Most of the time my thought was: "Yeah, that's what it does when you walk on it." Again, I had to deal with their unrealistic expectations.
If you think about it, the root cause of all frustrations is "unmet expectations." If you expect your children to keep their rooms clean and they don't, you will be frustrated.  If you expect no traffic on your drive home tonight and you get caught in that bumper-to-bumper kind, you will be frustrated.  If your customer expects you to show up when you promised, and you don't, she'll be frustrated. Maybe that's why many of us and our customers are skeptical of the promises salespeople make. "How can you tell when a salesperson is lying? His/her lips are moving!"
That's why it is critical for each of us to be very aware of what we say and what we promise.  Making the sale and managing expectations are both master selling skills. We need to become the masters of the understatement. We need to promise less and deliver more. The secret of "WOW" is exceedingcustomer expectations; not embellishing them.
So we need to be real. We need to know what a floor can and cannot do. We need product knowledge, but we also need to know how to apply that knowledge and communicate it well to the customer. Short and simple, we need to know how to specify, putting the right product in the right end use. That is, putting the right product in the right place and at the same time matching our customers' short- and long-term expectations. 
Selling the right floor is more complex than ever before. Years ago, most flooring stores sold only carpet and vinyl. Gradually, we began selling parquet for entries. Now we sell it all.  Selling floors requires product knowledge. However, product knowledge is not enough.
We now must understand the issues with moisture, installing on, above and below grade. We must understand the various installation methods for carpet, vinyl, tile, laminate and hardwood, including floating and non-floating floors. We must know something about design and color, i.e., what light colors and dark colors, and warm colors and cool colors, do to a room. We must know about maintaining and caring for all the floors we sell.
We must know how to apply the knowledge we have learned. I'm reminded of the YMCA to which I belong that had to replace the ceramic tile around the pool and the locker rooms because many members were slipping and falling when the tile was wet. The tile that was installed was wrong for this wet application. I'm sure it cost thousands of dollars to replace; a very costly misapplication.
The other study about customer expectations of which I was reminded was the one done by a major carpet mill that interviewed consumers two years after they had purchased new carpet. A vast majority, 83 percent, wished that they would have purchased a better carpet.  We have all purchased cheaply before and most of us have regretted it.
Do you remember John Ruskin's words? "It's unwise to pay too much, but it's worse to pay too little. When you pay too much, you lose a little money – that's all. When you pay too little, you sometimes lose everything, because the thing you bought was incapable of doing the thing it was bought to do. The common law of business balance prohibits paying a little and getting a lot – it can't be done. If you deal with the lowest bidder, it is well to add something for the risk you run, and if you do that you will have enough to pay for something better."
Today our customers want quality, and quality always trumps price. In order to convince customers to buy better, we must build trust so that they feel and perceive our pure intent; we will help them find the perfect product for their budget or we will walk away. If their budget does not allow a product to meet their expectation, we will tell them.
The long-term future of any business is tied to customer loyalty. The first component of customer loyalty is a totally satisfied customer. We must take time to discover both the customers' needs and their expectations. That understanding will help us apply our expertise so that we can specify the right product, while adjusting expectations to the appropriate level. This practice does not necessarily mean selling the product we make the most commission on, but the one that will totally satisfy the customer and meet her realisticexpectations.