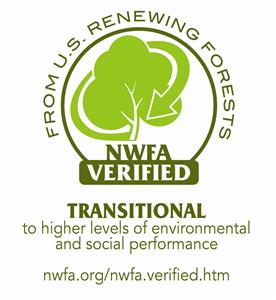 Domestic hardwood floors manufactured by Mullican Flooring now have permission to carry the new "From U.S. Renewing Forests" label created by the National Wood Flooring Association (NWFA).
The label signals to consumers and other market entities that Mullican is participating in the NWFA's Responsible Procurement Program (RPP) and can verify that all domestic lumber used during production comes from sustainable forests. The RPP was established in 2009 in partnership with various conservation and industry entities, including Mullican Flooring.
A charter member of the RPP, Mullican is one of only five hardwood flooring manufacturers in the nation to have achieved RPP certification. Neil Poland, president of Mullican Flooring, has served previously on the NWFA's RPP Governing Board.
"Having the opportunity to use the logo is important to us, and we strongly advocate the ideals of the program," says Brian Greenwell, Mullican's vice president of sales and marketing.
RPP companies commit to sourcing an ever-increasing percentage of their wood from forests that are certified according to the environmental and social standards of the Forest Stewardship Council (FSC), an independent organization that promotes the responsible management of both domestic and international forests. The RPP was developed to guide companies to eventually qualify for the FSC label, which represents the gold standard for sustainability in the wood products industry.
For wood flooring to qualify for the "From U.S. Renewing Forests" label, the forest of origin must be considered at low risk for such factors as illegal logging, conversion of natural forests to tree plantations or non-forest uses, logging that threatens the conservation of rare or threatened species and ecosystems, use of genetically modified organisms, and logging that violates traditional or civil rights.
In conjunction with its support of the NWFA's RPP, Mullican recently introduced a new Responsible Wood Procurement Policy to stakeholders, which strongly reiterates its position that raw hardwoods used in manufacturing will only come from responsible sources.
One of the nation's top five hardwood flooring producers, Mullican is headquartered in Johnson City, Tenn., and also operates manufacturing facilities in Norton, Va.; Holland, N.Y.; and Ronceverte, W.Va.
The company manufactures and sells hardwood flooring via a network of 40 distributors and 5,000 retail stores across the United States and Canada. For more information about the company and its products, visit www.mullicanflooring.com.