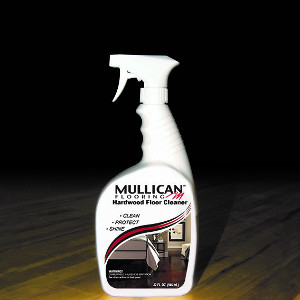 Mullican Flooring recently introduced hardwood floor cleaning products for the first time under its own label. 
Called the Mullican Flooring Hardwood Floor Care System, the products are packaged as a kit, consisting of a 32-ounce spray bottle of Mullican Flooring Hardwood Floor Cleaner and a three-part, ready-to-assemble mop. 
Mullican also recently introduced its first adhesives for installing glue-down engineered hardwood floors. One of the adhesives carries the industry's first lifetime moisture warranty for also protecting subflooring.
"We're excited to be expanding into areas where we've never gone before," says Brian Greenwell, Mullican's vice president of sales and marketing. "We launched the cleaning products because we believe consumers are generally confused about how to care for wood floors, which are very often a major life investment. We frequently receive questions about how to care for hardwood floors, how often they should be cleaned, and which actual cleaners should be used. As a result, we simplified this entire process by combining the tools and cleaner into one package." 
The mop consists of a swivel design handle that must be attached to a mop base and then covered with a microfiber cloth. The cloth cover can be laundered, line-dried and reused. 
Consumers can buy the entire cleaning system or can also purchase the cleaner or mop covers separately. All products are sold under the Mullican Flooring label.
The system also includes general care instructions for hardwood flooring. Notably, the hardwood floor cleaner was designed to have minimal volatile organic compounds (VOCs) emissions when used, although instructions still advise using the product only in well-ventilated areas. 
The Mullican Flooring Hardwood Floor Care System is available at retail stores across the United States and Canada where Mullican products are sold. 
One of the nation's top five hardwood flooring producers, Mullican is headquartered in Johnson City, Tenn., and also operates manufacturing facilities in Norton, Va.; Holland, N.Y.; and Ronceverte, W.Va. 
The company manufactures and sells hardwood flooring via a network of 40 distributors and 5,000 retail stores across the United States and Canada. For more information about the company and its products, visit www.mullicanflooring.com.