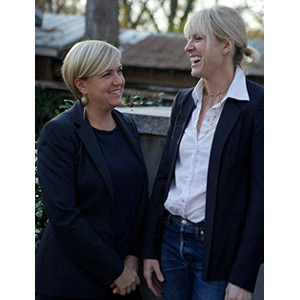 Susan Hable Smith and Katharine Hable Sweeney of Hable Construction
Capel Rugs has joined forces with Susan Hable Smith and Katharine Hable Sweeney of Hable Construction to create a line of exclusive area rugs featuring whimsical, fun and lighthearted graphics.
The initial rollout, scheduled to debut during the October High Point Market, includes several wool loop-hook constructions and three complementary made in the USA braided collections with a simple contemporary style theme. A kids-oriented line called Hableland also will debut during the High Point Market. 
"The Capel product development team is constantly searching for the most creative and unique designer brands," said Allen Robertson, vice president of sales. "We have teamed up with Susan and Kate to develop a versatile line of rugs featuring bold graphic patterns and modern color palettes that is sure to create excitement at retail."
The Hable sisters are hard at work developing additional rug styles that will be introduced by Capel in the spring of 2014. The next phase will expand the program's range with a variety of hand-knotted collections in a more sophisticated color palette, as well as other fresh constructions. The expanded offerings will be presented in an innovative, integrated room display during the April High Point Market.
To create this new program, Capel collaborated closely with the Hable Construction team to blend Capel's fashion-forward design focus and quality construction techniques with the Hable sisters' unique mix of practicality, sophistication and timelessness. Bold graphic patterns composed of abstracted motifs mixed with colorful, hand-drawn details are hallmarks of the Hable aesthetic, and these design inspirations shine through in these new area rug collections.
"We are excited to partner with Capel on this new line because, like us, they are a family owned and operated company that makes products right here in the United States," says Susan Hable Smith. "We strive to work with American companies that manufacture the best products in places with the top skill sets and Capel fits right in with that mission."
To see more from Capel Rugs' program of more than 10,000 unique designs, visit CapelRugs.com.