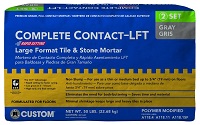 Custom Building Products introduces a new line of medium-bed mortars designed for large format tile (LFT) and stone installation. The expanded LFT mortar line consists of the just released Complete Contact-LFT Rapid Setting Mortar and Custom's Large Format Tile-LFT Mortar as well as its established ProLite Large Format Tile and Stone Mortar.

Custom also unveils its new SuperiorBilt Trowels in three sizes, designed with a patented notch pattern for better contact. The trowels are constructed to increase coverage specifically for large format tile applications with a mix of high and low ridges to fill voids, provide full contact and promote uniform bonds.

"Mortar coverage is key to a successful installation of large format tile and stone. It is strongly recommended to use a medium-bed mortar when installing large format tile to compensate for irregularities in the tile and substrate. Custom's new medium-bed LFT mortars are also formulated to control the amount of shrinking that occurs during the curing process, allowing the tile to stay true to adjacent tiles," said Thomas Carroll, product manager for Custom Building Products.
"Custom has engineered a superior line of medium-bed large format tile mortars that are easy to spread, offer nonslip/non-slump support, and are available in rapid setting formulations that quickly lock tile into place. In addition, the new Custom professional trowels make it easier to install large format tile with a patented notch pattern."