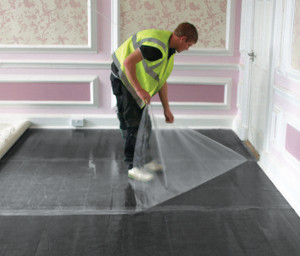 InstaFloor, manufacturer and supplier of InstaLay, the high performance, self-adhesive, acoustic underlayment, has set up a new Sales, Distribution and Support Center in Bella Vista, Arkansas. This central location has major logistical benefits and will enable us to fill orders to all parts of North America in just days.
InstaLay is an innovative underlayment design, relatively new to the USA but becoming increasingly popular, which greatly speeds up flooring installation times. Manufactured using rubber crumb from recycled vehicle tires, environmentally friendly InstaLay has an adhesive membrane which eliminates the need for glue or nails. Available with high grab adhesive, for permanent bonding, or low grab for future lifting, InstaLay is ideal for use with wood (engineered and solid), LVTs, vinyl, carpet, carpet tilesand bamboo flooring in both commercial and domestic situations.
With minimal sub-floor preparation and no wet adhesives, mess or delays, InstaLay is user friendly. Usually loose laid, it is quick and easy to install and as the release film is peeled back, the adhesive membrane bonds to the floor covering to keep it firmly in place.
The rubber crumb composition of InstaLay provides cushioning support and underfoot comfort as well as high levels of acoustic performance. In addition, InstaLay is durable, non-absorbent, hygienic, does not degrade over time and is fully recyclable at the end of its useful life.
For more information, visit www.instafloorna.com