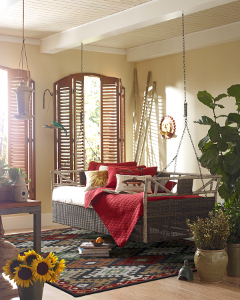 Bridlewood from American Rug Craftsmen?s Woolrich Collection is a native design in earthy reds, greens and browns. 
American Rug Craftsmen's new Woolrich Collection is a collaboration with a company that has been setting American style since 1830.
"The Woolrich Collection from American Rug Craftsmen combines the all-American feel and aesthetic of the Woolrich Company with the quality craftsmanship of American Rug Craftsmen," said Brandon Culpepper, vice president of specialty sales for Mohawk. 
This is not the first time a Woolrich-designed rug has been produced by a Mohawk brand. "Karastan Rugs has offered a few Woolrich-designed rugs in previous collections, but this is the first time we are presenting the Woolrich designs as their own standalone collection," Culpepper said. "We think American Rug Craftsmen, with its dedication to the American rug industry, is an excellent platform for this exciting, new, made-in-America, designed-for-America collection."
Woven of polypropylene on Van De Wiele looms in the USA, the Woolrich Collection features plaids, panels and Native American and lodge looks in rich earthtones and spicy shades. Retail pricing of American Rug Craftsmen?s Woolrich rugs--$199 for a 5' x 8' rug--is geared to accommodate a broader market. 
American Rug Craftsmen rugs are 100% made in the USA. They are marketed in furniture stores, in carpet and rug specialty stores and via e-commerce and catalogs.