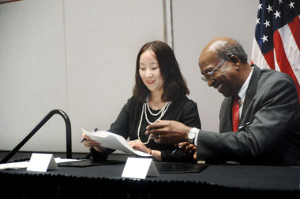 Sindy Cui, CEO of Zeyuan Flooring International and Danville, VA Mayor Sherman Saunders 
Chinese wood flooring manufacterer Zeyuan Flooring International will be opening its first U.S. manufacturing facility.
Sources said the company is planning to invest $15 million over the next three years at the Cane Creek Centre to initially build a 40,000 square-foot building for the project. Ultimately Zeyuan will hire 100 people to be employed at the facility. Officials said it will take approximately nine months to build the facility at which time the bulk of the hiring will take place.
Zeyuan Flooring has been a processor of solid wood flooring for 15 years and has an annual capacity of more than 16.1 million square feet in its Tianjin, China, facility. Zeyuan's products include several styles of solid wood, bamboo and parquet flooring, as well as wood composite products which are exported to Canada, Europe and other countries, and sold throughout the U.S.
The Regional Industrial Facility Authority (RIFA) and the Industrial Development Authority (IDA) of Danville announced the project last week, noting RIFA will provide the site, IDA will take ownership of it and construct the building which will then be leased to Zeyuan for 20 years. In addition, the reports said the Tobacco Commission has also committed a grant of $350,000 to the project.
Sindy Cui, CEO of Zeyuan's international division told the local press the company was originally looking at Los Angeles for the plant until Danville officials made the case which included introducing Zeyuan to GOK. Zeyuan officials have been visiting the area for the last few months before firming up the deal. She noted the company has been "overwhelmed" by the level of support and kindness shown by regional officials, and that it gave her family "confidence in developing our American business here."
City officials said while the building is being constructed, Zeyuan will operate out of GOK International next door with a small staff. GOK will also help the Chinese mill with distribution and sales.