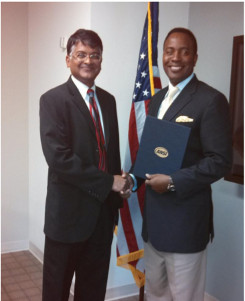 Leroy Battle, Chair of the Board of Green Advantage (on right) accepts the ANSI accreditation for the GACP designation from Dr. Vijay Krishna, Director of Personnel Accreditation Programs for ANSI 
The American National Standards Institute notified Green Advantage that it has achieved ANSI/ISO/IEC accreditation under 17024:2003 for its Green Advantage Certified Practitioner Certification (GACP). 
Construction supervisors earning the GACP designation demonstrate their competency – knowledge, skills, and abilities – in green construction. 
"On behalf of ANSI, I would like to extend our congratulations on this significant achievement and look forward to a continued partnership with Green Advantage," stated Dr. Vijay Krishna, director, personnel accreditation programs for ANSI. 
Leroy Battle, Chair of the Board of Green Advantage, responded, "We are very pleased to receive official recognition from ANSI for this certification that targets the needs of construction personnel. It is a major achievement for our organization. After retooling and preparing our organization, its finances, policies, procedures as well as updating the national certification itself to meet ANSI requirements, we fully recognize why ANSI remains the 'gold' standard." 
The ANSI accredited GACP Certification is based upon a national standard developed by Green Advantage with inputs from scores of experts from across the country representing academic research and policy setting organizations, national and regional green building rating system certifying bodies, workforce development groups, construction professionals, and other experts. It is designed to enhance the knowledge, skills, and abilities of commercial and residential construction field personnel.
The information it contains is: 
 Applicable across building trades.

 Compatible with multiple green building rating systems e.g. ASHRAE 189.1,  ICC700, IgCC, Green Globes, and LEED. 

 Means/methods-focused, with over 600 green building best practices 

 Evidence-based and rigorously sourced. 

Results-oriented, promoting achievement of:

Environmental goals. 

Health and productivity goals. 

Team collaboration and efficiency. 

 Problem-spotting in the field. 

 Implementation of construction best practices. 

 Cost saving goals and reduced callbacks. 

 Reduction of building operational cost. 
Green Advantage Certification Exams are administered electronically at over 350 centers throughout the U.S. or in groups of five or more who wish to take exams in a 
paper-pencil format. For more information about Green Advantage Certification, visit www.greenadvantage.org.